Indians Slam Pakistani Actress Mehwish Hayat For Clicking A Selfie With Nick Jonas After Calling His Wife Priyanka Chopra A Hypocrite
Netizens slammed Pakistani actress Mehwish Hayat for clicking and sharing a selfie with Nick Jonas. The actress in the recent past had demanded the removal of Nick's wife and actress Priyanka Chopra's removal from the post of UNICEF's brand ambassador. The actress bumped into Jonas at US Open Men's Semi-Finals in New York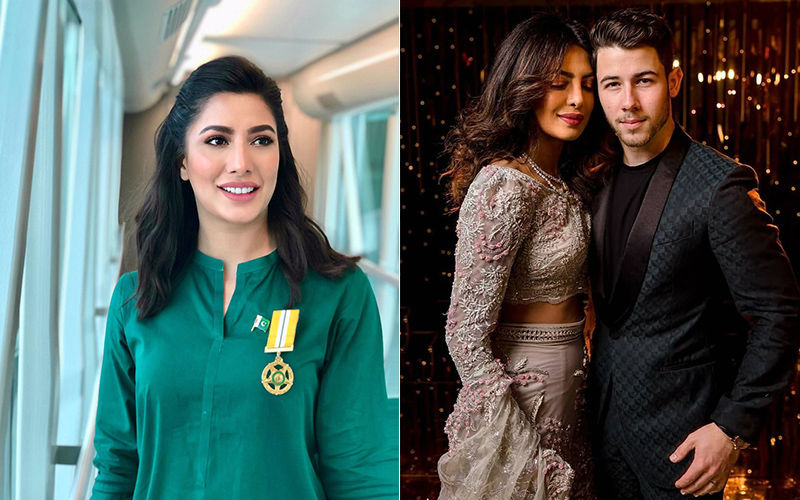 And here begins the trolling game. Remember how today morning
Nick Jonas' selfie with Pakistani actress Mehwish Hayat
made headlines. Major reason behind this selfie being headlined a lot was Mehwish's opinion piece/blog in CNN demanding for the removal of Nick's better half and global icon Priyanka Chopra Jonas as UNICEF's brand ambassador. Post Priyanka's befitting reply to a Pakistani girl who questioned her patriotism many Pakistanis had tried to move UNICEF to remove her from the post of it's brand ambassador. Further, Mehwish had ended up calling PeeCee a hypocrite in her approach in her opinion piece. We are very sure if Nick would have known about her, he might not have posed for a selfie.
As soon as she shared the selfie on her Twitter handle when she bumped into him at the US Open Men's Semi Finals in New York, trolls targeting her came out in full force for her hypocrite behaviour. Her caption read, "Guess who I ran into at the US Open Men's Semi Finals in New York! One thing we both agreed on was that we were both rooting for @rafaelnadal !🎾✌🏻@nickjonas @usopen @emirates" Take a look at the trolls below-

I dont think he knows that you roasted his wife a month back.

— Asad Sultan (@AsadSultan18) September 7, 2019
How would he know....She is insignificant..

— Aman mishra (@mishraaman96) September 7, 2019
Priyanka n nick both dont know this nobody girl fangirling for selfie

— Angel (@Angel67599199) September 8, 2019
Priyanka nor Nick give a damm about u but u still running behind them for attention sake and obsessing over them ... like seriously I'm amazed that u have gutts to ask him for a pic ..... this is just because he doesnt noe who u r orelse he wudnt even dare looking at u once even

— अNMOL K MAHTANI (@aKm07) September 7, 2019
Who else thinks if he knew who she was.... He'd not even let her 10 ft close to him. 😂

— Pʀɪɴᴄᴇꜱꜱ ᴄᴏɴꜱᴜᴇʟᴀ II 🌶 (@SirBrowknee) September 8, 2019
Indian actress achievement: giving autographs/selfies to fans in America
Paki actress achievement: asking for selfie/autographs of indian actress husband in America
P.s. see the difference 😋 https://t.co/w8NkxQXhc2

— purva (@purvanayak77) September 7, 2019
Honey he has no idea who u are to him u are just another fan he had to smile while posing for pictures he has been doing it for a while but go on for you sake

— #TheSkyIsPink Aditi Rocks 11 Oct 1st day 1 show (@shayPClove) September 7, 2019
Talking about their work commitments, Nick is busy with his music tour, while Priyanka Chopra will be soon promoting her upcoming movie The Sky Is Pink scheduled to release on October 11, 2019.
Image Source: Twitter/MehwishHayat/Instagram/priyankaworlds