Aamir Khan's daughter Ira Khan is one of the most popular star kids that we have in the industry. She is known for her striking presence on social media. Right from giving a glimpse of her happy moments to sharing her candid selfies, Ira has been a true blue social media queen of late. Ira recently gave her fans and followers a sneak peek into her Christmas celebrations with her family as she shared a bunch of happy photos with her dad Aamir. On Friday, Ira shared a screenshot of an Instagram user asking if "Aamir is her 'relative."
In the screenshot, one of her followers commented on her picture by asking, "Why is he close to you? Is he your relative?" Another fan replied to the comment, "They are father and daughter." The original poster was unconvinced, and wrote back, "This Aamir Khan lookalike is her father? He looks like him so much."
Another user wrote, "Dude, she is the daughter of Aamir Khan. You can always check it on Google to confirm." Sharing the screenshot of this funny exchange on her Instagram story, Ira wrote, "This is new. But yes, don't believe everything you read on Google." Ira was quite amused at a conversation about whether or not she is actually Aamir's daughter.
Take a look at Ira Khan's post below: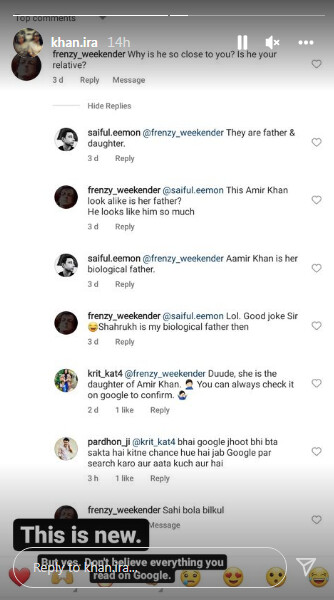 Meanwhile, Ira Khan dropped a series of photos from her fun-filled Christmas celebration. In the pics, Aamir and her boyfriend Nupur Shikhhare were seen twinning with each other and sharing laughter together. The photos went viral on the internet.
Image Source: Instagram/Ira Khan