J-Sisters Priyanka Chopra And Sophie Turner Celebrate As The Jonas' Brothers Happiness Begins Tour Sells Out! - Pics And Videos
Now that is what 'happiness' looks like! Nick, Kevin and Joe Jonas' Happiness Begins Tour tickets have been sold out and it calls for a celebration, J-sisters, Priyanka Chopra and Sophie Turner, join in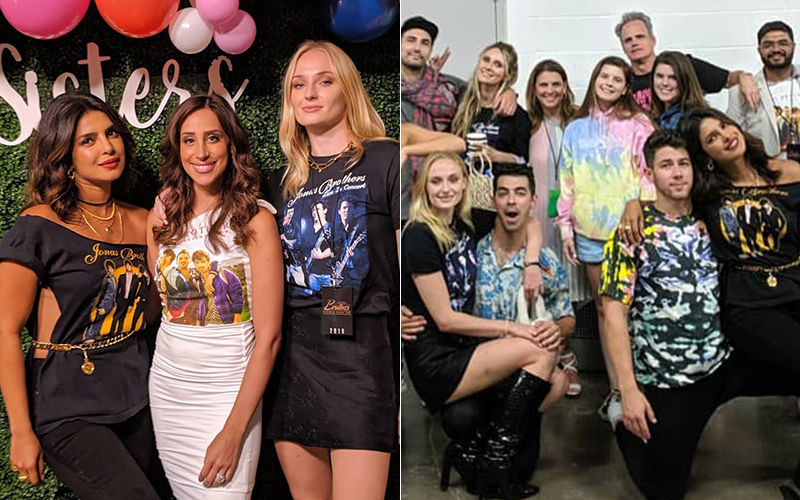 As Jonas Brothers' Happiness Begins Tour was announced, fans were super excited to see their favourite band on stage after a hiatus. However, the show that kicked off recently is a massive hit already. And now we know what 'happiness' looks like. Well, Nick, Kevin and Joe Jonas' Happiness Begins Tour tickets have been sold out. Yep, that's right! And it calls for a celebration, J-sisters, Priyanka Chopra and Sophie Turner, join in. A few minutes ago, Priyanka Chopra shared a bunch of photos on Instagram where the Jonas family are in a celebratory mode. Well, it is because Nick, Kevin and Joe Jonas' Happiness Begin Tour tickets are been sold out!
Priyanka Chopra shared a bunch of photos on Instagram where the Jonas family are in for a celebratory mode. In one photo, Priyanka is seen posing with Kevin Jonas' wife Danielle Jonas' kids and Sophie Turner while the other picture has the fam jam. The picture has Joe and Nick with their wives Sophie and PeeCee sitting cutely on their lap. In the picture, we also see Priyanka's mom, Madhu Chopra and brother Sidharth Chopra. There's another picture where the J-Sisters (as they're fondly known as) are seen posing for click. Interestingly, all the three are seen wearing outfits with Jonas Brothers printed on it. Check out these videos and photos inside.
We also came across a few videos as well that were shared by the fan clubs. In one of the videos, Nickyanka and Sophie and Joe are seen locking lips while the people around them cheer loud. The other video has Chopra and Turner are heading somewhere while holding hands. Here are the videos in question.

Priyanka Chopra and Nick Jonas are reportedly looking for a $20 million mansion in Los Angeles. According to TMZ reports, Jonas quietly sold his Beverly Hills bachelor pad for $6.9 million last month. It had 5 bedrooms, 4.5 bathrooms, and an infinity pool, luxuries their new place will surely top. However, they haven't found the perfect place just yet. While they are on a hunting spree, Nickyanka made the most of their lives in Miami. Priyanka ringed in her 37th birthday with her hubby, sister Parineeti Chopra and mom Madhu Chopra. During her birthday period, our Instagram feed constantly kept ringing with some amazing photos and videos from their Miami diaries.

Mrs. Chopra Jonas was also spotted with her sister-in-law and Game Of Thrones actress Sophie as they go on a shopping spree after chilling near poolside in bikinis. The pictures of the same have flocked the internet and are going viral in no time.

Talking about their tour, the Jonas Brothers are working on their setlist and they want some fan input. Of course, there are plenty of hits to choose from in their career and songs off their new album will certainly be in the mix.
Image source: Instagram/ Priyanka Chopra