Janta Curfew: Shah Rukh Khan, Shahid Kapoor, Amitabh Bachchan And Others Laud PM Modi's Move
On Thursday, PM Narendra Modi announced Janata curfew on March 22 and as he requested all the citizens to abide by the same, B-Towners like Amitabh Bachchan, Shahid Kapoor, Shah Rukh Khan, Akshay Kumar, Kiara Advani, Ajay Devgn and many more have come together and joined hands for Janta Curfew while urging netizens to follow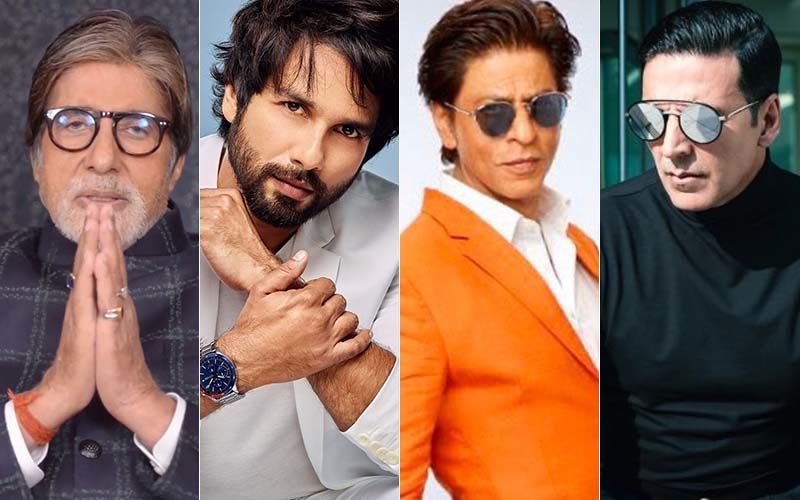 As the pandemic coronavirus or COVID-19 has become a serious threat to the world, the government officials are taking some drastic steps, including the shutting down of schools, public places, parks, theatres, shooting location just to prevent the spread of the virus amongst the citizens. Nevertheless, the transport service, media reporters, doctors, home delivery people and many more are still working amidst coronavirus scare. On Thursday, PM Narendra Modi announced a Janata curfew on March 22 and has requested all the citizens to express their gratitude to does in service by going out on their balconies or standing at their doors and windows at 5 pm on and clapping, banging plates or ringing bells.
While sharing a video on his official handle, he wrote, "At 5 PM on 22nd March 2020, the day of the Janata Curfew, I have a special request. Will you all help?" So, are you ready to join in?
Lauding PM Narendra Modi's Janta Curfew movie, B-Towners like Shah Rukh Khan, Amitabh Bachchan, Akshay Kumar, Kiara Advani, Ayushmann Khurrana, Shahid Kapoor, Ajay Devgn, Kartik Aaryan, Sonakshi Sinha and many more have come together and joined hands for Janta Curfew while urging netizens to follow it.
Sharing and supporting this movement, Akshay wrote on his timeline: "An excellent initiative by PM @narendramodi ji...this Sunday, March 22 from 7 am to 9 pm let's all join in the #JantaCurfew and show the world we are together in this. #SocialDistancing" While Big B who has been quite active during this period also wrote a tweet which read, "T 3475 - I support #JanataCurfew .. 22 March .. 7 am to 9 pm .. I applaud all fellow countrymen who work tirelessly to keep the essential services operational in such extenuating circumstances .. BE ONE, BE SAFE, BE IN PRECAUTION!"
Ayushman also tweeted by saying: "Request everyone to stay home and adhere to the #JantaCurfew on the 22nd of March from 7am to 9pm. Let's all fight this together! @narendramodi #IndiaFightsCorona." See all the celeb tweets below:
Fellow Indians, Namaskar 🙏 A short while ago, Our PM Saab, Modiji, requested all of us to show resolve & restraint in the face of COVID-19. Please also adhere to the Janta Curfew on 22nd March by staying home. Stay Safe 🙏@PMOIndia @narendramodi #JantaCurfew

— Ajay Devgn (@ajaydevgn) March 19, 2020
It's imp 2 reduce social interaction 2 minimum. Self Quarantine.The idea of #JanataCurfew on Sunday is a means to this end & we should continue this concept at a personal level as much as we can & more.We need to 'slow down time' to arrest the virus spread. Be safe & healthy all. https://t.co/MhC86Zvqg0

— Shah Rukh Khan (@iamsrk) March 20, 2020
An excellent initiative by PM @narendramodi ji...this Sunday, March 22 from 7 am to 9 pm let's all join in the #JantaCurfew and show the world we are together in this. #SocialDistancing

— Akshay Kumar (@akshaykumar) March 19, 2020
Our honourable Prime Minister @narendramodi ji has appealed for a #JantaCurfew on the 22nd of March - Sunday from 7am - 9pm.

I urge everyone to adhere to this in fighting this pandemic.

— Parineeti Chopra (@ParineetiChopra) March 19, 2020
22nd of March #JantaCurfew . This virus is affecting our heads at a faster rate than our bodies. Let's show solidarity as a nation. Let's be at our most positive and our most restrained. Let's raise the bar. This moment in time calls for it. God speed. Jai hind.

— Shahid Kapoor (@shahidkapoor) March 20, 2020
#JantaCurfew is a bold yet important initiative by our Honourable PM, which is a self-inflicted quarantine on Sunday, March 22 from 7 AM to 9 PM. It is a very measured and sensible way to fight this pandemic by not creating panic yet acknowledging the gravity of the situation. https://t.co/rXANVvhBSO

— Sidharth Malhotra (@SidMalhotra) March 19, 2020
It's time to understand our social responsibility & follow the guidelines. Let's show gratitude to all the people who have been working round the clock for us by observing the #JantaCurfew on 22nd March. Do your part. Stay safe to keep others safe.

— Madhuri Dixit Nene (@MadhuriDixit) March 20, 2020
Please support PM @Narendramodi 's #Jantacurfew initiative by staying at home on Sunday March 22, 7am to 9pm and by cheering from your windows and balconies at 5pm for our unsung hero's who are working tirelessly to keep us safe and the essential services running @PMOindia

— Rajkumar Hirani (@RajkumarHirani) March 20, 2020
To each and every citizen of India, I would humbly request to adhere to Shri @narendramodi ji's #JantaCurfew on 22nd of March (Sunday) from 7am - 9pm. Here's to India fighting this Pandemic. India Stay At Home!! #IndiaFightsCorona

— Manushi Chhillar (@ManushiChhillar) March 19, 2020
Good morning folks ! I hope & pray that everyone supports & follows the #JanataCurfew on 22 March from 7am- 9pm as suggested by our PM @narendramodi This is the only way we can fight the #covid19 virus & safeguard ourselves & our country 🙏🇮🇳. #jaihind #stayhome #besafe #ting

— Preity G Zinta (@realpreityzinta) March 20, 2020
T 3475 - I support #JanataCurfew .. 22 March .. 7 am to 9 pm .. I applaud all fellow countrymen who work tirelessly to keep the essential services operational in such extenuating circumstances ..
BE ONE, BE SAFE, BE IN PRECAUTION !🙏🙏🙏

— Amitabh Bachchan (@SrBachchan) March 19, 2020
Request everyone to stay home and adhere to the #JantaCurfew on the 22nd of March from 7am to 9pm. Let's all fight this together! @narendramodi #IndiaFightsCorona

— Ayushmann Khurrana (@ayushmannk) March 19, 2020
It's our turn now guys! We are all in this together! Our prime minister has asked us to come together and show our solidarity during this time so we realise the gravity of the situation and stand united. #JantaCurfew on Sunday 22nd March from 7am to 9pm. Stay safe stay home🙏🏼 pic.twitter.com/j0Wkiv25o7

— Kiara Advani (@advani_kiara) March 19, 2020
#CoronaStopKaroNa
My Appeal in my Style
Social Distancing is the only solution, yet 🙏🏽@narendramodi we are with you Sir !! pic.twitter.com/qhQBZSdFAd

— Kartik Aaryan (@TheAaryanKartik) March 19, 2020
Image source: Instagram/ iamsrk/ shahidkapoor/ amitabhbachchan/ Twitter/ akshaykumar