Just Out Of Bed Ranveer Singh Exits LIVE CHAT With Ayushmann Khurrana As 'Bhabhi Deepika Daant Rahi Usse' - WATCH
This video of Ranveer Singh and Ayushmann Khurrana just made our day. On a live chat, Ranveer joined Ayushmann for a quick chat but left immediately as his wifey Deepika Padukone started yelling. Scroll to watch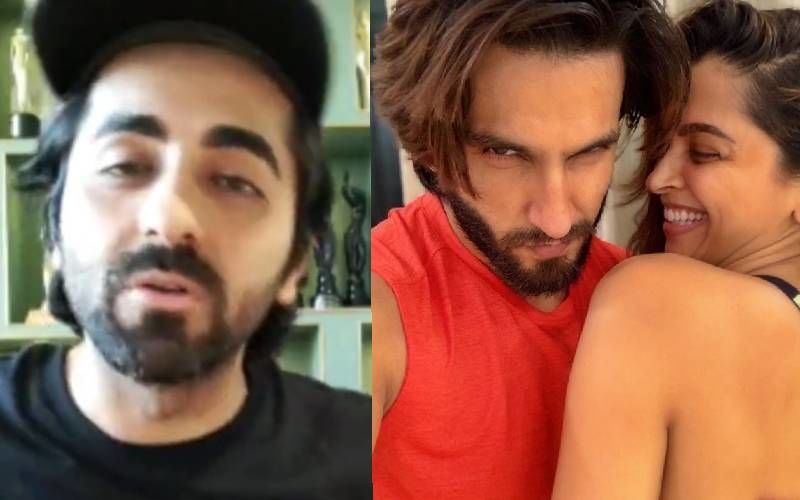 Live chats of celebrities are super fun these days. Since lockdown has affected all the events and promotions, celebrities are using social media to stay connected with fans. In fact, they are using social media to stay connected with each other too. Just like how Ayushmann Khurrana connected with Ranveer Singh over live chat. Yes, it happened, but for a very short time. The video of the two that has gone viral on the internet has just woken up Ranveer Singh joining Ayushmann over video call.
So Ranveer joins Ayushmann and says that he has come only to say hi to him. He has just woken up and that he can't go ona live chat when he is right out of the bed. Ayushmann is happy that he is at least wearing a t-shirt. Ranveer is unable to stop laughing and then he says that he is living the chat as Deepika is yelling at him. His wifey is having a zoom call with someone and wants Ranveer to stop yelling ASAP. As he exits the chat, Ayushmann says that 'Bhabhi daant rahi usse'. LOL
Such candid videos are so cool to witness. It just made our day. Watch it here.
Image Source: Twitter/Instagram/ranveersingh