Kader saab died quite peacefully. The senior actor's breathlessness had decreased a few minutes before his pulse stopped. Shahnawaz had reached Toronto on Sunday with his mother (they stay in Mumbai) but he failed to see them, as he had slipped into a deep coma on Saturday. Now, that his complete family is in Toronto, the veteran's mortal remains will be buried in a short while. Here are the details of his burial: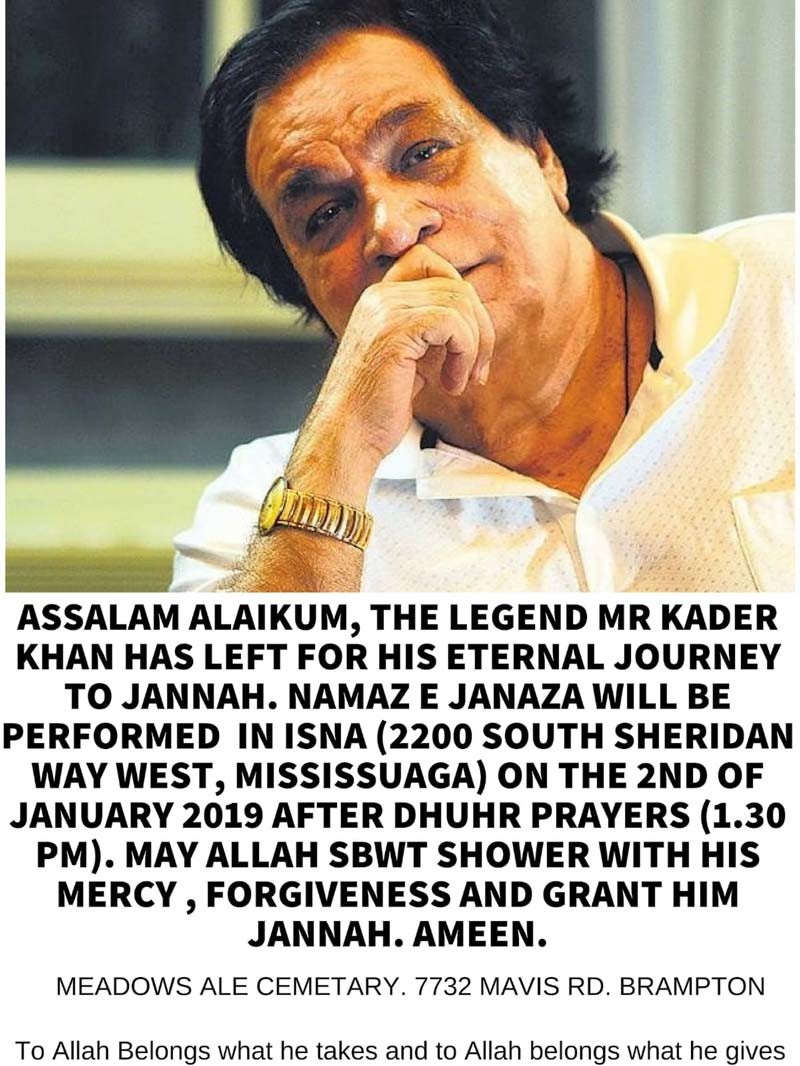 Yesterday we brought to you the details of Kader saab's last words and meal.
He last ate on Thursday and had rather well whatever the hospital gave him. His doting daughter-in-law fed him, Khan refused to take it from the nurse's hand. Shahista who is married to Sarfaraz even asked him if he liked the food that he was eating- and Kader saab shook his head to say 'No'. At this, Shahista told him that he should eat whatever he was having now, but would later quietly get him whatever he wanted from home. At this, Kader saab nodded to say 'yes'. This was his last meal and words (through his eyes) with his family in Canada, who has looked after him very lovingly- ever since she shifted there after his knee surgery in Mumbai and a brief stay in Dubai.
After Thursday, he did not eat a single morsel and did not sip even a drop of water. Even water could not be given intravenously since it would have led to accumulation of more fluid in his lungs. May his soul rest in peace.


Image Source:Telegraph India