Kangana Ranaut ACCUSES Priyanka Chopra And Diljit Dosanjh Of 'Disappearing' After Provoking The Farmers; Says, 'Dekho Kisaano Aur Desh Ki Yeh Halat Hai'
Kangana Ranaut launched a fresh attack on Diljit Dosanjh and Priyanka Chopra; accuses them of provoking the farmers and disappearing!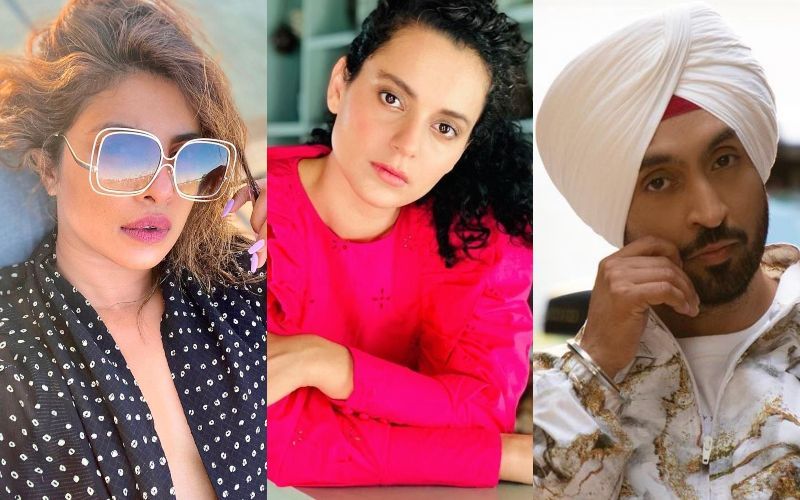 Ever since her nasty Twitter feud with Diljit Dosanjh, Kangana Ranaut hasn't stopped tweeting against him. It all happened after Diljit criticised the Fashion actress for insulting an elderly woman present at the ongoing farmers' protest. This led to a huge fight between the two. Days after that, Kangana Ranaut has launched a fresh attack by accusing Diljit Dosanjh and Priyanka Chopra of provoking the farmers and disappearing. She tweeted the same whilst sharing a video that saw some farmers protesting despite not knowing what it is against.

Kangana wrote, "मैं चाहती हूँ कि @diljitdosanjh और @priyankachopra जी जो किसानों केलिये लोकल क्रांतिकारियों की भूमिका में दिखे कम से कम एक विडीओ की माध्यम से किसानों को ये तो बताएँ की उनको विरोध किस बात का करना है,दोनों किसानों को भड़काकर ग़ायब हो गए हैं, और देखो किसानों की और देश की ये हालत है। (I want @diljitdosanjh and @priyankachopra ji who are seen in the role of local revolutionaries for farmers through at least one video to tell the farmers what to protest, both have disappeared by provoking the farmers, And look at this situation of farmers and the country)"
The actress wrote that by sharing a tweet that read, "Alleged Farmers at Singhu Border have no idea, what they're protesting against. Clueless people are fed 2-3 points by their leaders, they are just repeating those points."
Take a look:
मैं चाहती हूँ कि @diljitdosanjh और @priyankachopra जी जो किसानों केलिये लोकल क्रांतिकारियों की भूमिका में दिखे कम से कम एक विडीओ की माध्यम से किसानों को ये तो बताएँ की उनको विरोध किस बात का करना है,दोनों किसानों को भड़काकर ग़ायब हो गए हैं, और देखो किसानों की और देश की ये हालत है। https://t.co/k6G8YRVItQ

— Kangana Ranaut (@KanganaTeam) December 16, 2020
In the past, Kangana had attacked Priyanka and Diljit by tweeting, "Dear @diljitdosanjh @priyankachopra If you really care about the farmers, if you really respect your mothers, then hear what is the farm bill! Or do you want to use your mothers, sisters and farmers to get into the good books of the traitors? Wahh re duniya wahh)."
image source: instagram/kanganaranaut, priyankachopra, diljitdosanjh