A lot has conspired since the discovery of the shivling-like structure inside Gyanvapi Masjid. Amid all the drama, Kangana Ranaut has once again raised her concerns over the reaction by the number of individuals. She mocked the minority community's protest over suspended BJP spokesperson Nupur Sharma's hurtful comments on Prophet Muhammad.

Kangana yet again expressed her views over the ongoing protests via her Instagram handle with a screenshot from Aamir Khan's film PK and even penned a note for the same.
The Queen actress shared her views over the ongoing protests on her Instagram with a screenshot from Aamir Khan's film PK.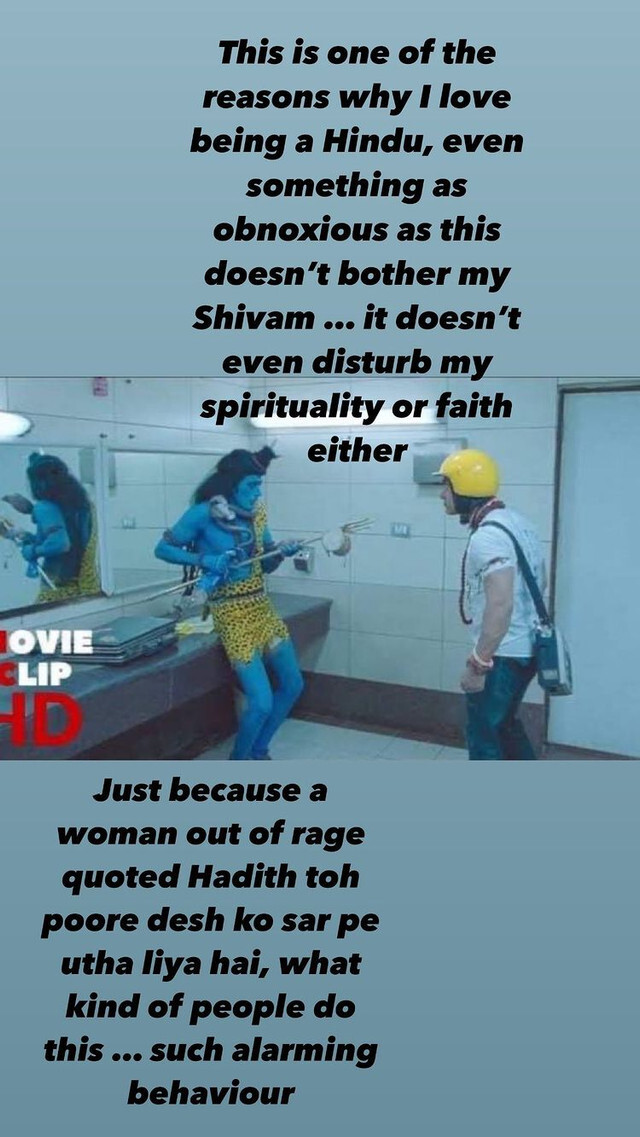 In the snap shared by the 35-year-old actress, PK (Aamir Khan) can be seen harassing a stage actor who plays Lord Shiva. However, the sequence did not go well with the audience and the film received harsh criticism for the same, as it reportedly hurt their religious sentiments.
Sharing the clip, Kangana boasted that 'Hindus' didn't go overboard over the sequence, and now, people are creating a ruckus just because Nupur quoted from Hadith.
Kangana said, "This is one of the reasons why I love being a Hindu, even something as obnoxious as this doesn't bother my Shivam... it doesn't even disturb my spirituality or faith either. Just because a woman out of rage quoted Hadith toh poore desh ko sar pe utha liya hai, what kind of people do this...such alarming behaviour."
Kangana Ranaut, on Tuesday, backed former BJP spokesperson Nupur Sharma. Voicing support for an ex-BJP spokesperson, Kangana said that the latter was "entitled to her opinions" amid international condemnation over the for BJP spokesperson's controversial remarks on Prophet Mohammad.
Image Source: Instagram