Kangana Ranaut Hits Back At Sanjay Raut After His 'Haramkhor' Remark; Says 'Is Desh Ki Beti Aapko Maaf Nahi Karegi Sanjay Ji'- VIDEO
Kangana Ranaut hit back at Shiv Sena's Sanjay Raut after she was called 'haramkhor' and in the latest video shared by her, Kangana expressed that she has freedom of expression and questioned why Aamir Khan or Naseeruddin Shah were not called the same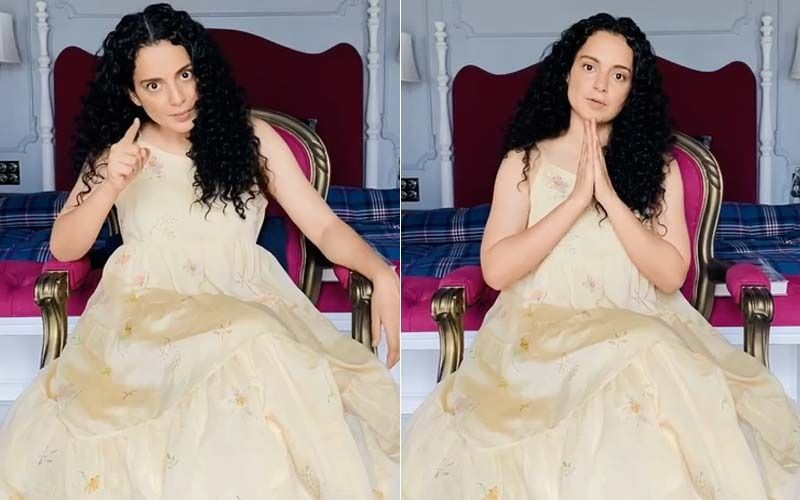 Bollywood actress Kangana Ranaut landed in controversy after her tweet wherein she compared Mumbai to Pakistan occupied Kashmir (PoK). Her tweet was in response to Shiv Sena's Sanjay Raut who asked her not to come back to Mumbai if she was so afraid of the Mumbai Police. Netizens were enraged and many bashed the actress for her remarks. The matter escalated further as Sanjay Raut, in a recent interview, called Kangana 'haramkhor' for her remarks. Now, Kangana Ranaut hit back at the politician and in the latest video shared by her, Kangana expressed that she has freedom of expression and questioned why Aamir Khan or Naseeruddin Shah were not called the same.
Kangana began by addressing Sanjay Raut in the video shared by her on Twitter, and said, "aapne mujhe kaha ki main haramkhor ladki hu." She then added how he must be aware that in this country so many girls are raped, abused, and she pointed out the atrocities against women. She further stated how it is the mentality that is responsible for all these atrocities. "Is desh ki beti aapko maaf nahi karengi sanjay ji. Aapne un sab mahilao ka shoshan karne walon ko sushaktikaran kiya hai," says Kangana in the video.
She further questioned that when Aamir Khan said that he is afraid of living in India, nobody called him a 'haramkhor'. Neither did anyone call Naseeruddin Shah that. She further said how in the past she has praised Mumbai Police but if they do not register Sushant's father's FIR or if her statements are not being taken, she is definitely allowed to condemn them. Ending the video, Kangana said, "Milte hain 9th September ko, Jai Hind, Jai Maharashtra!"
She further said, "If I criticise Mumbai Police or if I criticise you, then you can't say I am insulting Maharashtra. You aren't Maharashtra. Your people are threatening me, still I'll come to Mumbai on September 9."
Sharing the video, Kangana wrote, "संजय जी मुझे अभिव्यक्ति की पूरी आज़ादी है मुझे अपने देश में कहीं भी जाने की आज़ादी है । मैं आज़ाद हूँ ।"
Image Source: Instagram/Kangana Ranaut