Kangana Ranaut Lauds Leonardo Di Caprio, Slams Indian Celebrities For Keeping Mum Over Cauvery River Crises - EXCLUSIVE
Kangana Ranaut in an exclusive chat with SpotboyE opens up about her need to attach her name with the Cauvery Calling Campaign and why her industry colleagues should take concrete action in conserving our natural resources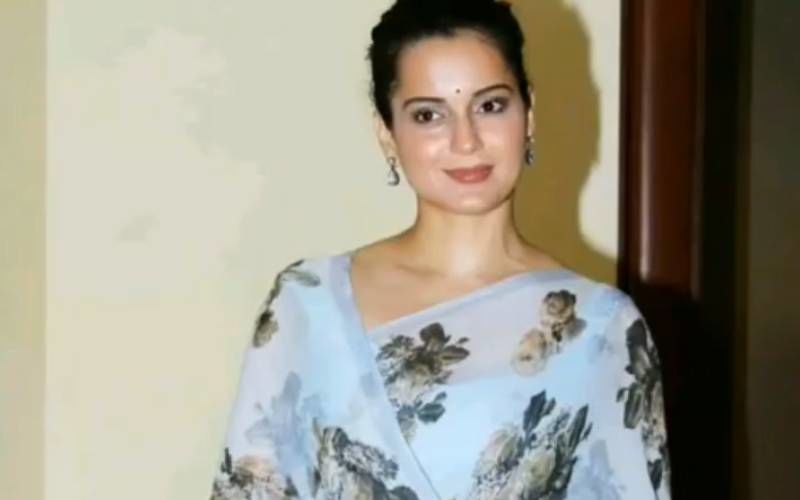 Kangana Ranaut
recently attached her name to the Cauvery Calling Campaign initiative. The actress donated Rs 42 Lakh and also pledged 1 lakh saplings for plantation. The actress who is riding high on the critically acclaimed and recently released Judgementall Hai Kya has got the ball rolling and is also urging her fans, followers and her colleagues from the industry to join in and do their bit to save the dying water reserves in India.
Ranaut hosted an event in Mumbai to create awareness regarding Cauvery Calling Campaign with which names like Tamannaah Bhatia and Kajal Agarwal have also joined in. We met the Queen actor and sat down for an exclusive chat to understand what made her attach her name with Cauvery Calling Campaign. She also opened up about the 12-year plan that will set a president for the coming generations and set an example for them as to how to conserve our natural resources. Read a few excerpts below:
SpotboyE: What made you attach your name with Cauvery Calling Campaign?
Kangana Ranaut: I have been part of a lot of voluntary work. I remember when I was 21 I was with Ramakrishna Mission. I helped them build a hospital then and also worked a lot with them for the voluntary work they do for the rural area. The media attention wasn't so huge in those times and also I never felt it was important to tell, I always felt I should do what I should do and never thought I should involve more people. Now, it is different, I feel that it isn't something that one person can do and to think that they can alone do something is stupidity. A lot of inspiring stories which I received through media, like the Brazilian couple who planted 2 million trees in 20 years to revive a destroyed forest area or a story of one single man in Assam who planted one tree every day and now the result is unbelievable, like that so many links come and then you wonder when one consciousness, one person can create such a big impact then why can't I? That has been a very important trigger. I have been very close to Isha Foundation, I have taken a lot of things from them and it has benefitted me and you think what do you give back because these are not the organisations that charge you a bomb, it is an ashram. The way it functions you wonder if you could give back and this was something they were doing and I thought I want to be a part of it and whatever little I can do in my capacity
SpotboyE: You mentioned at the event earlier that there is a 12-year plan that has been chalked out to save the Cauvery Basin. Could you through some light on that?
Kangana Ranaut: It has been 2-3 years now since Isha Foundation flagged off this campaign. There is no land that can be cultivated in a way where we can grow trees. The population is such that there is no land left anymore. The only way we can do this is to change farmers from indulging in crop harvesting to tree-based agriculture. so that's what they are doing. They are providing them saplings, the farmers are also taking a risk of not doing they conventional farming and it will be a significant time by the time they start to reap the fruits of their efforts. We want to stand by them in those years and see how they can be part fo this shift. The farmers are in bad shape and this module might benefit them. See, for me what is more important is that we make this module successful so that for the coming generation we make this, one scientific approach to natural distress, that if we have lost the river or fertility of the soil-something that has been very valuable to that area- number of people get together to build this module to make this a very good precedent for the coming generation to set. A lot of areas in India and not just Cauvery, whether it is floods or droughts, everywhere there are extreme situations. We all need to come together, we have become very individualistic in our approach, that will also teach us a lesson.
SpotboyE: With media having a big influence on people and a huge presence of social media too, do you think it has become important to talk about the good work a celebrity does now?
Kangana Ranaut: Very important. Like I said how did I get inspired? Because I heard two stories and that inspired me. If everybody is going to just be on an overdrive of overconsumption then who will give back. Then how long before we fall apart? Hence this realisation is very important. If you see a businessman who is 5 trillion times more than my financial capacity, you will never see that kind of media frenzy around them or will not see them getting the kind of love and attention the way we do. Why are artists so different? We need to realize this, it cannot be only about you and have a self-centered business. Being an artist you have so much privilege and that is why people love us, there is a certain hope people have from us and we need to realize that. Today the money that I gave is not important, the intention is important. So even if somebody gives one tree it is with the same intention that I also have. so when a fan of mine or somebody who follows me to the T, they will also know that there is a lot more to be the person that they celebrate and that a lot more is a consideration for everyone around. It is high time that celebrities show that consideration towards the environment.
SpotboyE: Very recently a lot of celebrities raised their concerns regarding the Amazon fire which is good and even reposted Leonardo di Caprio's message. Do you see a lack of intent back home?
Kangana Ranaut: No offense but even when Notre Dam, unfortunately, caught fire, celebrities were crying back home, I mean whatever said and done, even we had glorious structures that are destroyed but no one cares about that including Ram Mandir in Ayodhya. What I am saying is that this wannabe attitude isn't right. Environmental concerns shouldn't be a fancy thing to do so that's why it is important to involve yourself so that participation is more concrete. I think amazon fire is important even more so for that part of the world but for us, Cauvery is such a big red alert like literally murders took place last summer for water, that city was completely out of gear and Leonardo Di Caprio mentioned about it also last year but back home no one did. No one mentioned about Chennai drought and the situation of farmers there. They are just social media activists. Nobody is rich enough, everybody needs money, I am sure it goes the same for the richest people in India. When I hear about them, they are under a lot of debt and that too 1000s of crores of loans and it scares you. So my point is it is never too easy to take out even Rs 42 from your pocket and give it to somebody else. Hence celebrities need to set precedents where they are beyond armchair warriors. It isn't a big deal to donate Rs 42 but who will go through the hassle of opening the link and making the payment?!
Kanaga Ranaut is surely making the right amount of noise and we hope her endeavors for Cauvery Calling Campaign reap a lot of fruits.
Image Source: Instagram/team_kangana_ranaut
They say the best things in life are free! India's favourite music channels 9XM, 9X Jalwa, 9X Jhakaas & 9X Tashan are available Free-To-Air. Make a request for these channels from your Cable, DTH or HITS operator.