Kangana Ranaut Makes EXPLOSIVE Claims About Ranbir Kapoor-Alia Bhatt starrer Brahmastra; Accuses Makers Of 'Buying' Tickets In Advance Bookings
Ranaut took to her Instagram handle to claim that the makers of Ranbir Kapoor and Alia Bhatt starrer have bought movie reviews and accused the makers of allegedly trying to exploit religious sentiments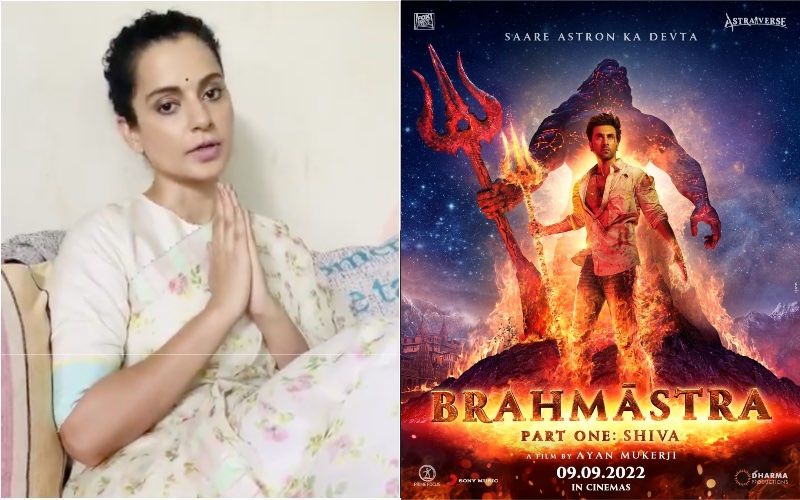 Kangana Ranaut has often taken digs at the Kapoor and Bhatt clans and it's quite clear how much she despises them. The Queen actor has once again targeted them, Ranbir Kapoor and Alia Bhatt specifically, following the release of their first film together - Brahmastra.

In her Insta post, Kangana said that the director Ayan Mukerji has burned down Rs 600 crore while making Brahmastra. She also went on to reveal that the director took 12 years to make the film, replaced 14 DOPs (Director of photography), shot for more than 400 days and changed 85 ADs Assistant Director).
She also went on to claim that the makers of Brahmastra begged the south actors, writers and directors to promote their film but they will not hire competent writer, directors, actors and other talents.
Kangana also maintained that the people who are calling Ayan Mukerji a genius should be jailed immediately. She went on to accuse the makers of allegedly trying to exploit religious sentiments by changing Ranbir's character name from Jalaluddin Rumi to Shiva at the last minute.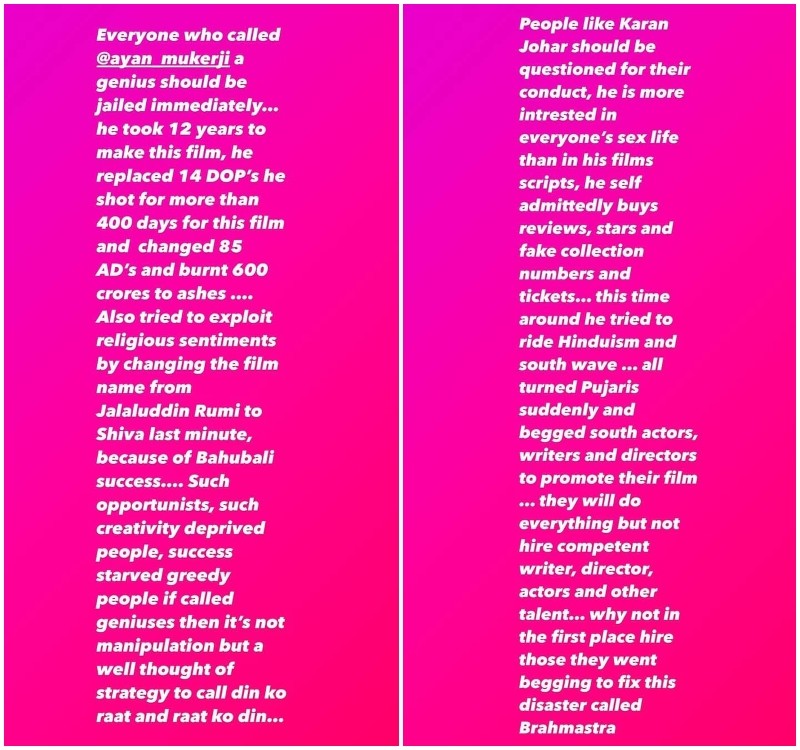 Labelling the makers of Brahmastra as opportunists, creativity deprived, success-starved and greedy people, Kangana pointed out that it is it's not manipulation but a well-thought-out strategy to call 'din ko raat and raat ko din.'
Well, the 35-year-old actress did not stop there, she even took potshots at Karan Johar and said that he is more interested in everyone's sex lives than films and scripts, saying that he self admittedly buys reviews, stars and fake collections.
Brahmastra stars Ranbir, Alia, Mouni Roy, Nagarjuna, Amitabh Bachchan and Shah Rukh Khan in a cameo. The movie is said to be having Rs 40 crore opening for all languages.
Image Source: Instagram