Kangana Ranaut Takes A Swipe At Hrithik Roshan AGAIN, Says, 'He Refuses To Move On, Kab Tak Royega Ek Chote Se Affair Keliye'
Soon after the reports of Hrithik Roshan's FIR being transferred from Cyber Cell to Crime Branch CIU (Crime Intelligence Unit) made headlines, Kangana Ranaut couldn't hold herself back from reacting on the same. She asked HR to 'move on."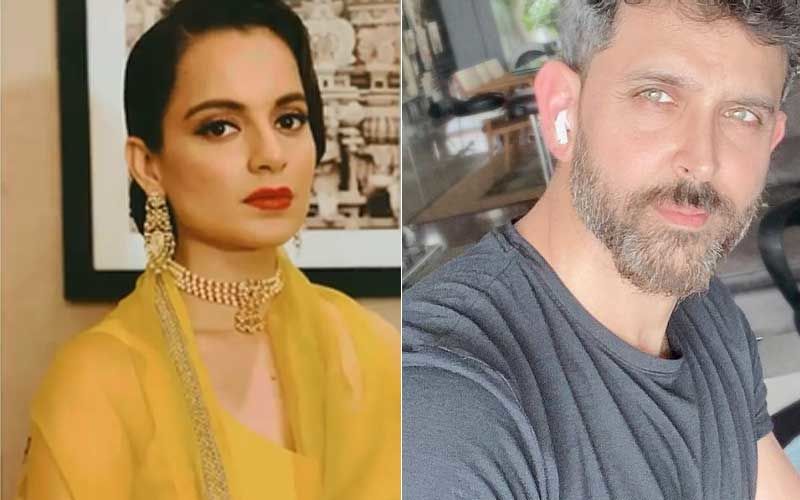 Kangana Ranaut vs Hrithik Roshan controversy needs no introduction. It's been quite some time since Kangana is landing in legal soups every now and then. Now seems like a fresh legal trouble seems to await Ms. Ranaut. Kangana is once again making headlines after Hrithik's lawyer Mahesh Jethmalani wrote to Mumbai Police seeking transfer of his case. As per the actor, he has received hundreds of emails from Kangana's email account following which he registered in 2016. In his defense, HR has denied having had an affair with Kangana.
Now soon after the reports of War actor's FIR being transferred from Cyber Cell to Crime Branch CIU (Crime Intelligence Unit) made headlines, Kangana couldn't hold herself back from reacting on the same. She wrote, ""His sob story starts again, so many years since our break up and his divorce but he refuses to move on, refuses to date any woman, just when I gather courage to find some hope in my personal life he starts the same drama again, @iHrithik kab tak royega ek chote se affair keliye?" The tweet she re-tweeted read, "Hrithik Roshan's FIR, which he registered in 2016, has been transferred from Cyber Cell to Crime Branch CIU (Crime Intelligence Unit). Hrithik alleged that he had received hundreds of emails in 2013 & 2014 from Kangana's email ID."
In the letter, sent to Mumbai Police, Hrithik's lawyer wrote, "Our client also met top police officers when he reiterated all the facts and informed them about the trauma being caused to him and his family. He also reiterated his request for a timely investigation. However, till date, there has been no progress in the investigation, and the aforementioned case is still pending. We thus request to kindly look in the matter and issue appropriate orders to kindly direct completion of investigation at the earliest since the same is pending since 2016."
His sob story starts again, so many years since our break up and his divorce but he refuses to move on, refuses to date any woman, just when I gather courage to find some hope in my personal life he starts the same drama again, @iHrithik kab tak royega ek chote se affair keliye? https://t.co/qh6pYkpsIP

— Kangana Ranaut (@KanganaTeam) December 14, 2020
Images Source: instagram.com/hrithikroshan/kanganaranaut