Karan Johar has been entertaining his fans on social media by posting a series of #LockdownWithTheJohars videos featuring his twins Yash and Roohi, and sometimes, his mother Hiroo Johar. It all started with his kids disapproving of his fashion choices, and soon hilariously dissing other things such as his singing talents. Not only are the little munchkins adorable, but they also playfully roast their dad and the result is entertaining, and keep fans wanting for more. Now, Karan Johar is also sharing his musings on Instagram, and had a question for his orgasm.
Karan Johar took to his Instagram stories and seemed to have had a conversation of sorts with his orgasm. He wrote, "Dear orgasm, why are you so unpredictable? You either come without any warning or then despite multiple efforts you don't rise to the occasion... please please be more consistent...I egg you... Male Ego." Earlier, he had also shared about gossip, rumours and scandal, and wrote, "Dear Gossip, You are on a ventilator at the moment...please hang in there....your close counterparts RUMOUR and SCANDAL will soon breathe the required oxygen into you...looking backward to your return... Slay alive, Social Media."
Check out Karan Johar's Instagram stories below: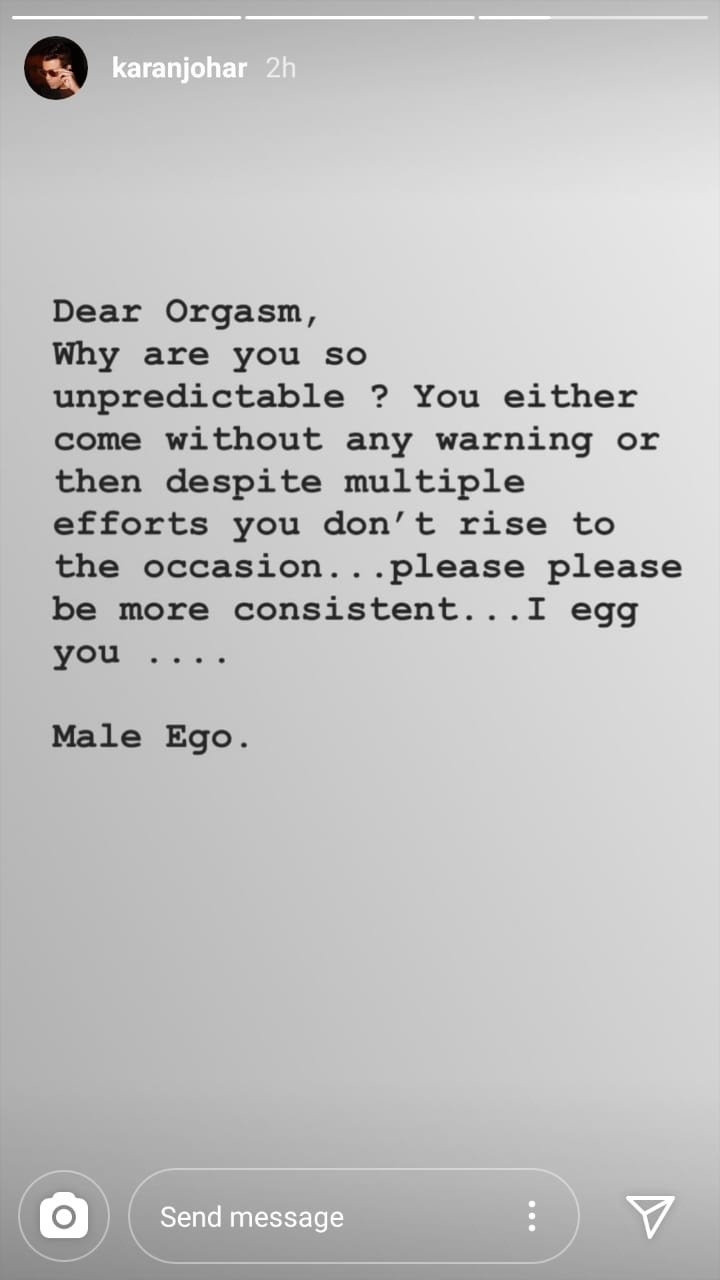 On the work front, Karan Johar was to direct his multistarrer Takht with Alia Bhatt, Ranveer Singh, Vicky Kaushal, Kareena Kapoor Khan, Bhumi Pednekar, Janhvi Kapoor among other stars, but it was postponed due to the ongoing lockdown.
Image Source: Instagram/karanjohar