Karan Johar's Quarantine Diaries: Surprisingly, Yash Approves Of His Dad's 'Blanket-Like' Versace Jacket, Roohi Wants To Go Out – VIDEO
Aww! Check out Karan Johar's latest quarantine video, featuring his munchkins Yash and Roohi, who are playing with his super-expensive Versace jacket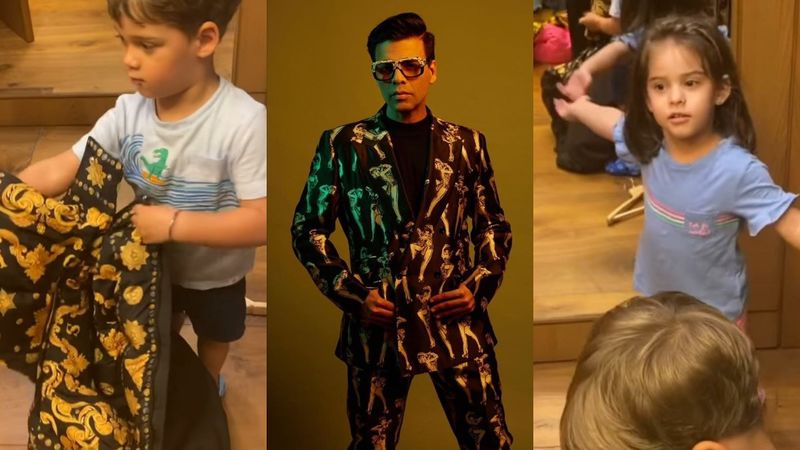 It looks like Taimur Ali Khan, Misha Kapoor and AbRam Khan are getting some tough competition these days, from? Well, it's Karan Johar's super-cute twins Yash Johar and Roohi Johar, the glimpses of whom he has been sharing on a regular basis amid the Coronavirus lockdown. The past few videos saw Yash and Roohi, along with Hiroo Johar, disapproving of KJo's sartorial choices. The latest video shared by the filmmaker, however, sees Yash liking his blanket-like Versace jacket and he was quite surprised.
The clip shows Karan, Yash and Roohi inside the former's jacket wardrobe full of some of the other luxurious brands. Yash then takes notice of a black jacket with heavy gold work on it and starts examining it. KJo, who is recording the video, asks Yash what is the thing he is holding, to which, the munchkin gives the right answer. He then asks him whether he liked it and Yash says yes. Well, Karan was quite surprised, considering his kids didn't really approve of fashion choices.
We further had the cutie Roohi in the frame, who expressed her wish of going out, to which, KJo asked if she is bored of his wardrobe and she politely says a no. Yash and Roohi then set each other's hair. Too much of cuteness in one frame, you guys!
Check out the video:
Yesterday, the clip shared by Karan saw mom Hiroo dissing his recent choices. She could be heard saying, "I feel you're wearing too much black, too much bling. I think you could reinvent yourself." LOL!
image source: instagram/karanjohar