Karan Johar celebrated his 50th birthday in grand style at the Yash Raj Films studio, and the entire B-Town swarmed the venue to celebrate KJo's lavish birthday bash. BFF divas Kareena Kapoor Khan, Malaika Arora and her sister Amrita Arora also made a stunning entry with their glamourous looks.

The stunning trio also shared their pictures on social media but as usual, they were heavily trolled as they were age and body-shamed. However, they proved to be much more savage than Instagram could even think of. The gorgeous divas did not hesitate to call out the troll for their crass mentality.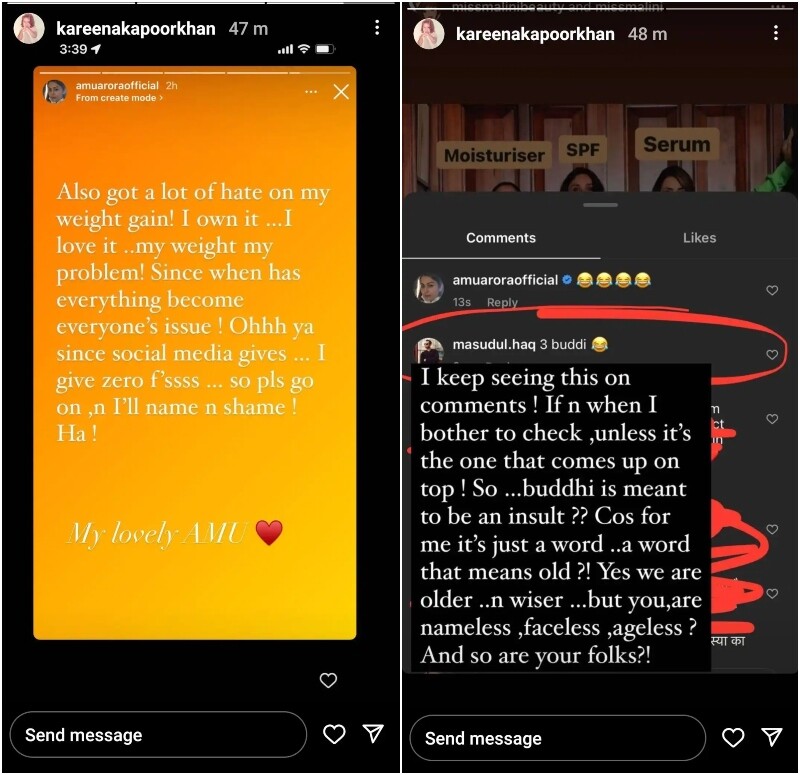 Amrita was body-shamed for her visible weight gain. Giving befitting reply to body-shamers, she wrote on Instagram, "Got a lot of hate on my weight gain! I own it…. I love it… my weight my problem! Since when has everything become everyone's issue! Ohhh ya since social media gives…. I give zero f'sssss….So please go on n I'll name n shame! Ha!."
Kareena Kapoor Khan, on the other hand, age-shamed for her looks and she gave them a burning reply to the trolls who called her 'buddhi'.
"I keep seeing this on comments! If n when I bother to check, unless it's the one that comes up on top! So…. buddhi is meant to be an insult?? Coz for me it's just a word… a word that means old? Yes we are older… n wiser… but you, are nameless, faceless, ageless? And so are your folks?" she wrote.
She also shared Amrita's reply and cheered for her saying, "My lovely AMU" with a heart emoji.
Malaika had also come out in support of her sister Amrita. She had written on Instagram, "You say it sis…. You are beautiful just the way you are…. N guys it's so damn uncool to fat shame anyone…. Tch tch".
Well, this isn't the first time the stunning divas trolled the trollers and they are often seen taking a savage stance against the trollers.
Image Source: Instagram