Koffee With Karan 6: Tiger Shroff-Kriti Sanon Redefine Art Of Dodging Questions; Latest Episode Turns Out To Be Epic Dud!
Tiger Shroff and Kriti Sanon will be seen gracing the couch for the latest episode of Koffee with Karan and it turns out to be a big flop as the stars repeatedly kept dodging questions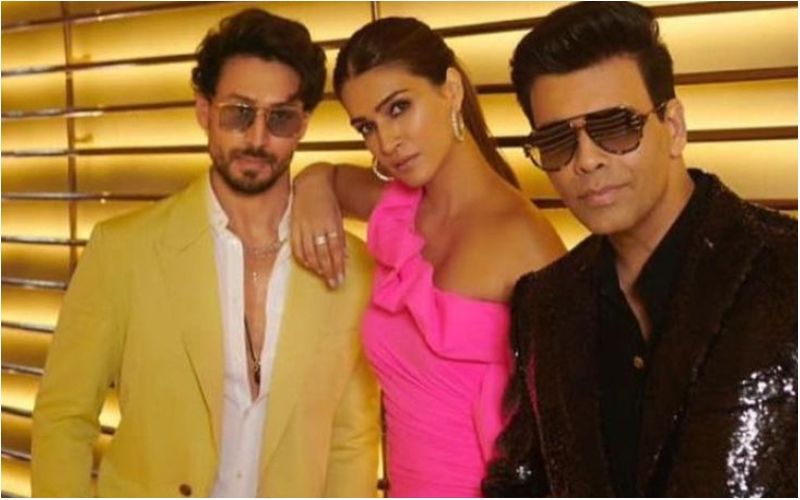 Now I'm convinced he is a fighter. Tiger Shroff had come well prepared on Koffee With Karan, how to avoid awkward questions from his no-holds-barred host Karan Johar. So is Tiger single or not? He is now, is what Karan got out of the young star bristling under the impact of a massive flop.

Tiger didn't hide his disappointment at the failure of Heropanti 2. But, when it came to talking about his personal life, it was nearly impossible for the host to get up close and personal. A little anxious to sex up the conversation Karan Johar had to step in to do some damage control. He decided to throw in some of his own sex talks to make up for his guest's lack of zing.
So, here it comes, Karan told his guests, and by extension us, that once—just once?—he tried to, err, makes out in an airborne plane, but it didn't work out. Inclement weather or incorrect targeting, we don't know.
The guests just didn't look curious enough. Neither Kriti nor Tiger struck me as the inquisitive kind, the kind who nose around other people's lives. This episode of Koffee With Karan came across as one of the weakest of the season. The guests seemed ill-prepared or perhaps not prepared at all for the 'Karan Johar' kind of questioning. The conversation was flattened out and most of the information shared was the kind we didn't really want to know about.
The last episode of Koffee With Karan featuring Kiara Advani and Shahid Kapoor was far more interesting. Shahid and Kiara, designated by host Karan Johar as "coffee veteran" and "coffee virgin", respectively, are not quite the best of conversationalists at the best of times. The fun was to be had in decoding their behaviour on the couch.
Shahid, otherwise a gentleman, spoke about wanting to "bitchslap" a co-star. "And you also want to bitchslap her, Karan," Shahid added helpfully. It doesn't require too much inside knowledge to know whom the two were giggling so conspiratorially about.
Shahid also stated that he was never insecure about any co-star. That isn't quite the truth. There are stories from the sets of Sanjay Leela Bhansali's Padmaavat that tell another story.
Image Source: Instagram