The festival of Janmashtami celebrates the birth of Lord Krishna, a deity revered for his divine teachings and playful nature. In 2012, Bollywood gifted its fans with a memorable cinematic experience in the form of "OMG - Oh My God!"
As 'OMG 2' continues its box office spree, we can't help but look back on 'OMG 1' on the special occasion of Janmashti. At the heart of this cinematic masterpiece was Akshay Kumar's flawless portrayal of Lord Krishna Vasudev Yadav, a character that continues to send chills down the spines of viewers even years after the film's release.
In 'OMG 1' Akshay Kumar took on the role of Lord Krishna with unprecedented finesse. As Krishna Vasudev Yadav, he blended charisma, wit, and spirituality effortlessly. His portrayal was marked by a deep understanding of the character, which shone through in every scene. Akshay Kumar's performance as Krishna transcended the realms of mere acting, and also provided a fresh perspective on spirituality.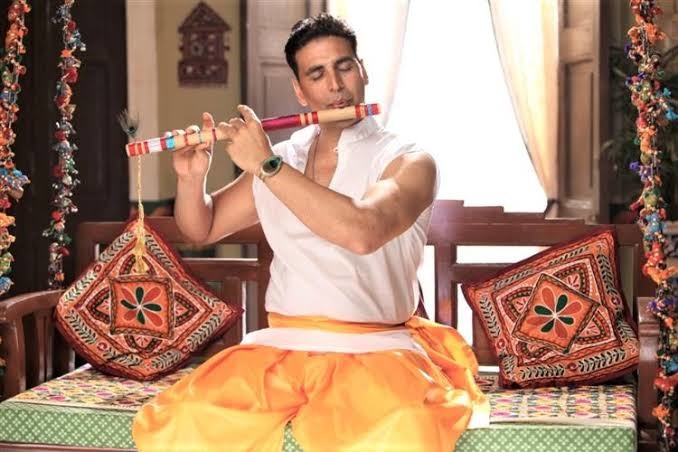 One cannot discuss Akshay Kumar's portrayal of Krishna without mentioning the iconic look he sported. As he donned different looks, the resemblance of his wardrobe along with the signature serene flute, Akshay gave yet another outstanding performance.
Akshay Kumar's performance as Lord Krishna was met with unanimous acclaim from fans and critics alike. Fans were awestruck by the authenticity with which he depicted the character. They felt a deep connection to Lord Krishna through his performance, and many were moved by this apt portrayal.
Today as we celebrate Janmashtami, we remember Krishna Vasudev Yadav who transcends the boundaries of time and has become an iconic representation of the beloved deity. Akshay Kumar continues to be a major influence in cinema with his resonating characters.
Image Source: Instagram