Mahaakshay Chakraborty's run at the movies has been far from dreamlike. In an industry that only celebrates success stories, the actor was forgotten after his films failed to make any impact at the box office. Now, as he returns after two years with Ishqedaariyan, he talks to SpotboyE.com about everything from the pressures of being Mithuns son to his regrets.

You were missing from action over the last two years. Were you in an introspective mode?
I have been away because I want to make sure that I do good films at this stage. Its not that I wasnt getting offers. However, none of them struck a chord with me. Each of my previous films Jimmy, Haunted 3D, Loot and Enemmy belongs to a different genre. I chose Ishqedaariyan because its a challenging role. I wont blindly sign any film even in the future. Ill be very cautious.

Do you regret doing any of your earlier movies?
No. I believe every film that I have done, has only improved me as an actor. If everything came to me on a platter, I would have taken it for granted. Today, Im much more focused on what I do. Im very thankful for my struggle; it has made me strong.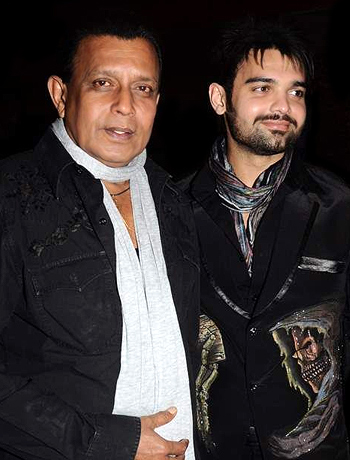 Image Credits: Bolegaindia.com

Your dad, Mithun Chakraborty, was a superstar in his heydays. That must be putting added pressure on you...
I remember a saying from a film that I had watched. It says, you get used to anything if you are around it for a while. I have had this burden for nearly 10 years, so I am used to carrying it now. No matter how well I perform, Ill always be compared to my dad. I dont want to sit and think ki mere dad ne aisa kiya tha, toh main bhi aisa shot doonga. I want to have my individuality. Right now, Im trying to find myself as Mahaakshay, not as Mithuns son.

Do you seek his advice when it comes to choosing films?
When it comes to giving advice as a father, he is always there. But as an actor, he believes that the decisions should be mine because I need to know what is right for me and what is wrong. I go to him only if Im terribly confused. Even then, he just tells me his point of view and then leaves the decision up to me. He tells me: 'No matter how long it takes, you have to do it on your own. As a father, Ill provide you the life.

What are your criteria while selecting a script?
The story should touch you when youre reading the script. If there is no story, all the other factors glamour, richness, music are pointless.

So do you think Ishqedaariyan has a powerful story?
I saw the film recently and was very happy with it. Be it the performances, music, direction or story, I believe we have done a good job as a team. Having said that, I cannot change destiny. When the film releases, well know what the audience feels. But I can definitely say that when I look back at my career, I will be very content with Ishqedaariyan.

(Tune in to SpotboyE.com The Show on Monday, Wednesday and Friday at 9 pm and Tuesday, Thursday and Saturday at 1 pm on 9XM)