Mira Rajput Accidentally Added Ekta Kapoor In A Mothers' WhatsApp Group And This Is What TV Czarina Did Next
Even before Ekta Kapoor welcomed her li'l bundle of joy Ravie Kapoor into her life, Shahid Kapoor's wife, Mira Rajput had once added her to a mom's group by mistake and this is how the producer had reacted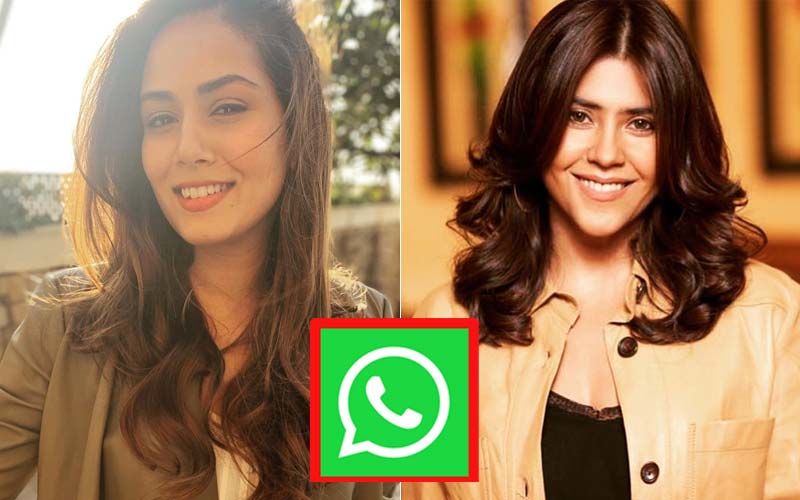 All the wishes came true for TV Czarina
Ekta
Kapoor
, when
she welcomed baby boy Ravie Kapoor into her life.
The director-producer had once revealed that
she wanted to embrace motherhood since a long time
. Following brother,
Tusshar Kapoor'
s footsteps, Ekta is now a mother to a son. However, did you know that the producer was already a part of an all-mothers WhatsApp group, much before she became a mommy?
In a recent interview with
Anupama Chopra
, Ekta Kapoor narrated an old incident, when she was added to a group of moms and her reaction was epic. Once
Shahid Kapoor
's wife
Mira Rajput
accidentally added Ekta to a WhatsApp group of moms, while Ekta was writing a show on motherhood called Mental Hood, which will stream on AltBalaji. The show, as reports suggest will star
Karisma Kapoor
but as of now Ekta has not made any official announcement on the same.
Recalling the WhatsApp group incident, Ekta told Anupama Chopra, "India is so ready to lap up everything about parenting and there are only about ten parenting shows now. Urban parenting, except for Hindi Medium, hasn't been really captured. So I was doing this show on urban parenting because I think it is a huge demand anywhere and whether i am a mother or not i might get a few insights elsewhere. And then by mistake, Mira Kapoor added me to a mother's group. And I was like 'oops how can I leave this group' and I was hearing these conversations and writing my script and said 'this is fantastic'."
In the same interview, Ekta Kapoor spoke about the time when had come to know that she was going to be a mother. She said, "When I knew that the surrogate had conceived and it was on June 7. On my birthday I got to know. I was a bit overwhelmed. I was like 'Okay this is happening. This is going to be a huge responsibility. I just wrote a show out which is going to be with an A-list Bollywood actress. It's called Mentalhood. It's about motherhood and every time we did the scripting about the Momzillas and the pressure you go through, the guilt you go through, tiger moms, helicopter moms, I was constantly feeling overwhelmed. But now I have realised that I have a lot of guilt even now."
She further added, "I think the first thing you think as a mother is guilt. I don't think anyone would say that so openly. I am at work, I am feeling guilty, when I am at home, there is a lot of guilt about not completing the things that I used to normally do. So you are just dealing with various kinds of guilt. Then it's responsibility and third is a feeling that there's someone there that you want to see grow. It's a bit confusing at this moment. It has been 25 days as of now."
Image Source:Instagram/mirarajputkapoor,ektaravikapoor