Newsmakers 2020: Late Sushant Singh Rajput, Kangana Ranaut, Karan Johar, Rhea Chakraborty And Others; Celebrities Who Made It To The Headlines, Even Without Trying
From late Sushant Singh Rajput, Karan Johar, Kangana Ranaut, Rhea Chakraborty and others; read about the newsmakers of 2020 in detail. B-Town celebrities, who made it to the headlines without even trying.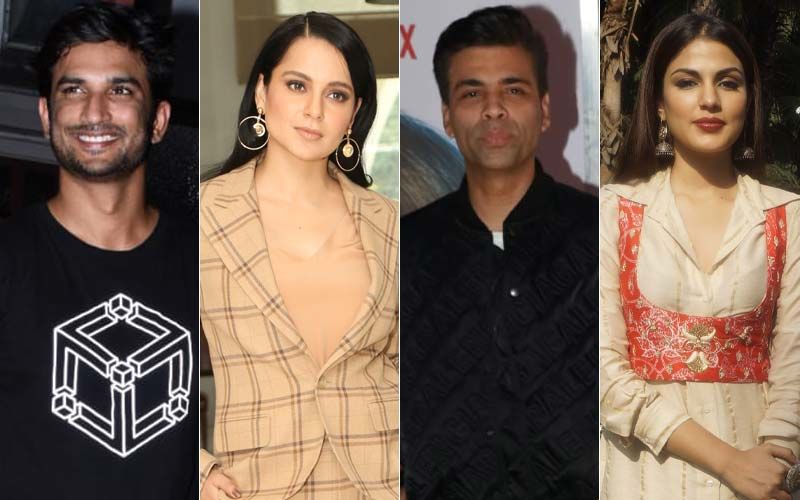 COVID-19 controlled mankind's karma throughout the year. Our tinsel town newsmakers did everything they could to stay relevant, right from baking cakes to posting pictures of the pet canines to breaking out into a jig…anything. In a year, when social media become a platform for an exceptional glamour clamour, these 4 denizens of the entertainment world made news without even trying. Read in detail about the newsmakers of 2020.
Sushant Singh Rajput: When a celebrity dies the media and its ardent devourers rave and rant for two days, and then move on to the next news maker. Not Sushant. Six months after his death, he continues to shake up the film industry like no other Bollywood celebrity living or dead. It would be no exaggeration to say that in death Sushant lives forever. He has attained an extraordinary immortality wherein the very basic moral foundation of the entertainment business is being questioned? Who killed Sushant Singh Rajput? This is a question that continues to haunt the corridors of Bollywood. With his death the Indian entertainment industry has experienced a jolting awakening, a wakeup call to set up the house in order. Sushant is dead. Long live Sushant.
Sonu Sood: Who would have thought that this affable actor would rise and shine to become India's most relevant entertainer in 2020. By coming to the help of thousands of migrants, by helping them to get home at a time when we had abandoned them, Sonu provided a Sood-ing touch to a wounded bleeding nation. And the fact that he did not allow the barking dogs to dampen his spirit, that he continues to plod on with his philanthropy regardless of the party poopers, proves he is no flash in the pan. Neither is he one of those stars who make big announcements about providing help to the needy and then disappear without anyone being any wiser about their bogus intentions.
Kangana Ranaut: She raved, she ranted. She raged against the winds of conformity. But is Ranaut now run out of the match? Tipping over into the abyss that divides the nonconformists from the status quoists. At the end of the year, Kangana's reputation as a rabble rouser was seriously eroded. Over-confidence killed her claims to being the conscientious truth seeker in a nation of shirkers and liars. At the start of the year, even her staunchest fans were pissed of by her excessive and highly suspicious moral aggression and ill-formed political tirades. Be as it might, Kangana Ranaut made her presence felt in 2020. The future, though, is not hers to seize.
Rhea Chakraborty: The death of Sushant Singh Rajput and the subsequent witch-hunt made Rhea a superstar, something she always wanted to be. This pretty ambitious girl from Kolkata was trying to make her presence felt in Bollywood for five years. That 'It' factor eluded her. Sushant finally got what he wanted for her: Rhea is now a star, albeit in ways that he would have never wanted. Close friends of Ms Chakraborty inform me that she is all set for her belated innings as a screen queen. She has some great offers. 2021 will see a lot of her.
Karan Johar: The savage attack all through 2020 has left him scarred. The lately beleaguered Karan Johar has been advised by experts to lie very very low in 2021. The hounding trolling and abuse he went through as the face of nepotism in the Hindi film industry finally ended with the triumphant response to Johar's Gunjan Saxena: The Kargil Girl which premiered on Netflix on August 12. How does Karan feel? Of course, he feels relieved and vindicated. But you won't hear him making self-congratulatory statements about his victory. Incidentally, Karan Johar has given breaks to over 25 new directors who made their first film for Johar's Dharma Production. He has always worked with new talent. But he was accused of being the face of nepotism. In 2021 now, Karan Johar has decided to curb all his public appearances including his television commitments. He will return to the public platform when he feels the time is right. Right now, he would rather let his work do all the talking.
Image source: SpotboyE archive