Do we really need to tell you about Salman Khan's popularity? He is thronged by innumerable fans everyday and like any of them will tell you, all they want is a picture with their favourite star. A selfie with Bollywood's Bhai, to be precise.
Quite a harmless request, you would say. That's exactly what Salman thought too.
Of course, he didn't know that a selfie can land him in so much trouble.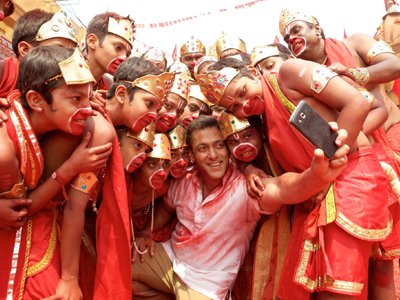 The story goes, a girl in her late twenties, who has been his ardent admirer, recently landed up on the sets of Prem Ratan Dhan Payo in Karjat among many other fans. Like Salman does with most of his fans, he happily obliged her with a selfie too and forgot all about it.
Next thing you know, the girl circulates the picture and tells anyone who is willing to listen how she is Salman's latest steady date.
Thankfully, before things could get worse, the story reached Salman's manager Reshma Shetty's ears. She was furious upon hearing how the fan in question was trying to malign the superstar.
Realising how an innocent episode can snowball into a dangerous one, she sprung into action. She quickly told Salman the development. Needless to say, the actor himself was mighty upset about it. He tweeted:
Tweet will be loaded here in front end.
That alone wasn't enough.
Next, Shetty told the superstar - no more selfies with fans! And we all know, Salman toes Shetty"s line.
So now, if you're a die-hard fan who would give an arm and a leg to pose with Salman, well, take his manager's permission. If she gives you the nod, you can strike a pose with the Kick star. Fair deal?
Think of it, Salman himself advocated 'Selfie Le Le Re' in his latest flick Bajrangi Bhaijaan. What an irony!