Why #JusticeForSushantSinghRajput Movement Is All Over The Place - OPINION
Sushant Singh Rajput's death case has seen it all. From nepotism, suicide, murder, money laundering to drugs. Every reason under the sun has been the focus but not many are talking about why he died so young.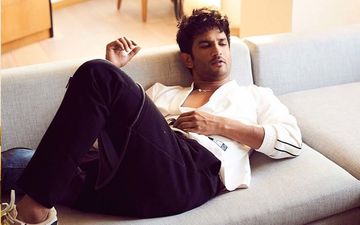 It has been more than 2 months since Sushant Singh Rajput died. These 2 months and 20 + days have not only been excruciating for his family and his fans but entertainment journalists too have been having sleepless nights. Yes, we lost one of the brightest stars of the Indian Film Industry, yes we lost a genius mind, yes we lost a humble soul but sadly those left behind have lost the sense of direction. Sushant's death has been made into a spectacle and surprisingly the focus has shifted to countless other things than the main one. Trying to know the reason for his untimely death at the age of 34. Until August 19th we all were chanting #CBIForSushant and in less than 15 days after the CBI took over we have been finding it difficult to keep pace with the ever-changing 'breaking news'.
Primetime channels are having a field day. News channels have turned into tabloids and to fill in 24/7 news space on television, their 'breaking news' has become 'aching news'. Meme factory too is overflowing with content. Having said that based on 1000+ man-hours clocked in by our team of writers for over 2 months, we have heard news debates, watching documents being released by channels as proof, lawyers giving statements and counter statements, ex-girlfriend stating that 'Sushant was happy till the time he was with me and he was never depressed' to Rhea Chakraborty, Sushant's last girlfriend, who gave three sets of interviews explaining why she is innocent.
Then there are those who were interviewed because the channels took the onus on themselves to investigate and pronounce the verdict that Rhea Chakraborty is guilty. From former bodyguards, cooks, fitness trainer, to sting operation conducted on morgue attendant, ambulance driver, locksmith to finally the person who claimed to have seen many injuries on Sushant's body. A video which even the actor's sister Shweta Singh Kirti shared on her Instagram and wrote, "My God!! Listening to news like this breaks my heart a million times...what all they did with my brother. Please, please arrest them!! #ArrestCulpritsOfSSR." As it turns out the guy in question was a NOBODY and he just wanted to milk the opportunity and get some airtime. He apparently saw Sushant's body only after the postmortem was done, thus explaining all the marks on his body. After his video went viral and this guy faced the heat he made a u-turn and confessed he was not part of Cooper hospital or the Ambulance staff. He was a layman who in his words said, "Ek celebrity ki death hui issi liye dekhne aaya tha." Reckless reporting has done no good but has instead harmed the case and further tarnished Sushant's image.
But if I am not wrong, since June 14, not only channels but even social media users seem to know it all. Nepotism was the first answer to the 'why' and was said to be a reason for Sushant taking the extreme step of ending his life. The brutal trolling went to such a level that many celebs and star kids had to bid adieu to Twitter. Many got rape and death threats too. Conspiracy theories were loosely based on someone's idle mind and even Sooraj Pancholi was dragged in despite him clearly stating that he did not know Sushant or Disha Salian. Netizens have discarded the suicide theory, even though Mumbai Police has officially said that Sushant did die of asphyxia due to hanging.

Two months back as soon as the news of Rajput's death broke, there was an idea that was fed into everyone's mind. Nepotism. Sadak 2 faced massive wrath of social media. In fact, Sushant's brother-in-law started promoting a Twitter handle called Nepometer that aimed at letting viewers know the level of nepotism the film has. As if a film was made by actors only and the hardworking crew had nothing to do with it. But soon the late actor's family filed an FIR against Rhea Chakraborty and her family and nepotism was dropped and forgotten like a hot bun and the actress was crucified even before she got a fair trial. We saw various chats being flung at us which raised serious doubts and just when we were close to giving a verdict sitting in front of our TV screens, came in the drug cartel angle. Now there were new sets of chats produced by the 'sources' close to CBI to the news channels who proudly flaunted each and every highlighted message. Though CBI has officially denied leaking any information that is being continuously run on several news channels.
This revelation took us back to square one and there was no clarity. What happened on June 14? There were also chats exchanged between a Jaya Saha and Rhea Chakraborty where Jaya was asking Rhea to "Use 4 drops in tea, let him sip it …. Give it 30-40 mins to kick in." God! Didn't that almost convince us? But wait for it! According to India Today sources Jaya in her statement to CBI revealed that it was, in fact, Sushant who asked her to provide him with details of CBD oil (not illegal in India), and Rhea was just a mediator. Now what? That theory is also out of the window? Not yet. Next came in screenshots of several chat groups in which drugs were discussed and Rhea was part of it. Rhea's brother Showik and Sushant's house manager Samuel Miranda after hours of interrogation confessed to getting drugs for Rhea and ended up getting arrested by the NBC last night. They both are being produced in court as we speak.

Now, remind me again, was this #JusticeForSushant or Drug Mafia expose case? Remember, arrest by Narcotics Control Bureau does not prove abetment of suicide nor does it give us a reason behind Sushant's death. Producers Guild of India too has issued a statement which has been supported by the likes of Abhishek Bachchan, Vidya Balan, Sonam Kapoor, Kareena Kapoor Khan, Farhan Akhtar, Ninrat Kaur, Hansal Mehta and many more who are torn with the ghastly picture portrayed about the Hindi film industry. Out of the entire statement, a portion reads, "The tragic death of a promising young star has been used by some as a tool to defame and slander the film industry and its members. A picture has been painted of the industry as a terrible place for outsiders to aspire to; a place that treats those who dare to enter it with contempt and derision, a murky den of substance abuse and criminality." But what happens when one of your own, Kangana Ranaut promises to expose the drug mafia of Bollywood. She vows to help CBI unravel the darkest secrets of Bollywood. But the secrets aren't new to her so why time it with Sushant's death and not speak up earlier? Kangana is one of the very few talented actresses the industry has got today and Bollywood has given her everything she has. She has earned every bit of her fame and money in Mumbai, the city of dreams. She is a Padma Shri, 3-time national award winner and Mumbai and Bollywood has been her 'karmabhoomi' for 14 years. In the last 14 years she has been privy to many parties, many secrets, many uncomfortable truths but never did she approach the Mumbai Police earlier and raise her concerns about the alleged drug mafia of Bollywood. Why?
I am more than willing to help @narcoticsbureau but I need protection from the centre government, I have not only risked my career but also my life, it is quiet evident Sushanth knew some dirty secrets that's why he has been killed.

— Kangana Ranaut (@KanganaTeam) August 26, 2020
I request Ranveer Singh, Ranbir Kapoor, Ayan Mukerji, Vicky Kaushik to give their blood samples for drug test, there are rumours that they are cocaine addicts, I want them to bust these rumours, these young men can inspire millions if they present clean samples @PMOIndia 🙏 https://t.co/L9A7AeVqFr

— Kangana Ranaut (@KanganaTeam) September 2, 2020
@ambkcsingh firstly, if one knows something which is illegal as the IPC, then as a law abiding citizen it needs to be reported and FIR lodged.. Career, successful professional etc cannot be above the law of the land - purely my view to your tweet Madame

— Rajnish CASSHYAP (@RajnishCasshyap) September 2, 2020
I still remember Sunday, June 14. As an entertainment journalist, it is a painful task to cover the death of a famous celebrity. Even worse when it is an untimely death of a young star with whom you have interacted on a few occasions. In my experience, the news usually dies down after a week but 2 months on and Sushant is still alive. This definitely shows us how powerful social media is and how relentless his fans are who refuse to give up. But it is also an eye-opener that how little our society thinks of mental illness. The bigger evil facing right back at us holding a mirror to our face is the media trial and social media trial. And from the looks of it, everyone is trying to grab their 2-minute fame off an actor who if alive would have condemned the exact circus that is surrounding his name right now.
Image source: instagram/sushantsinghrajput
They say the best things in life are free! India's favourite music channels 9XM, 9X Jalwa, 9X Jhakaas & 9X Tashan are available Free-To-Air. Make a request for these channels from your Cable, DTH or HITS operator.