Priyanka Chopra Pregnant? Mother Madhu Chopra Finally Answers The Million Dollar Question
The Internet has been going berserk since the time Priyanka Chopra tied the knot with Nick Jonas, about the actress being pregnant. Add to it the recent pictures, where PeeCee was captured with a slight bump. Now, mummy Madhu Chopra has finally spoken on it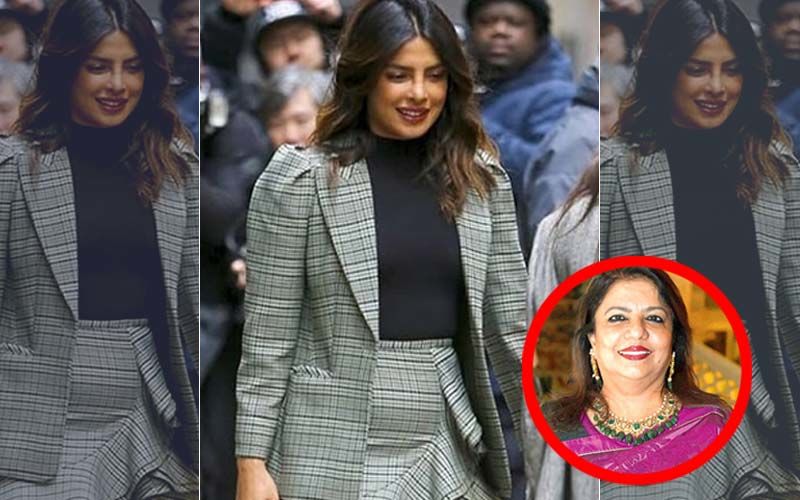 Speculations form a big part of the entertainment industry. Many a times, celebrities fall prey to the assumption game, as the world wants to know what's going on in their favourite stars' lives.
Priyanka Chopra
has been facing this situation over months now.
Since the time
Priyanka married beau, Nick Jonas,
there has been a constant buzz about the actress being pregnant. On top of that, her recent pictures from the Michael Kors event, where the actress was seen wearing a fitted check skirt with blazer, went viral, as PeeCee's pictures showed the actress with a little bump. In no time, Internet started what it's best for- news of Priyanka being in her first trimester spread like wildfire.
Although the desi girl hasn't reacted on it yet, mother Madhu Chopra has finally decided to answer the query. In an interview to Mid-day, Dr Chopra has said, "The outfit was nice. She looked like that only in some pictures, the rest were fine. Blame it on the camera angle!"
Madhu Chopra also revealed what Priyanka told her when she called to inform the actress of what's going on. "When I spoke to Priyanka on the phone, she told me that she was tired and hence, had a slumped posture. I told her what people were saying, and she simply said, 'Mamma, give me a break!'"
Madhu Chopra
told the tabloid.
Earlier, while talking to PTI, Madhu Chopra had expressed how as a mother she used to be worried about Priyanka missing out on a few things in life but gradually things fell in place. Madhu Chopra had said, "I thought she's missing out on some aspects of her life because she's so dedicated to her career, profession and her craft. As I saw her evolve, I started enlisting. Only in the initial days I was worried. Later, I was with her in her trajectory."


Image Source: Instagram/priyanka_chopra_jonas_,rytir