Rakhi Sawant's Boyfriend Adil Khan Durrani's Ex-Girlfriend Roshina Delavari Takes A Dig At The Actress: 'How A Woman Could Tell So Many Lies'
Adil Khan Durrani's ex-girlfriend Roshina Delavari commented on a viral video and criticized Rakhi Sawant for lying to attain publicity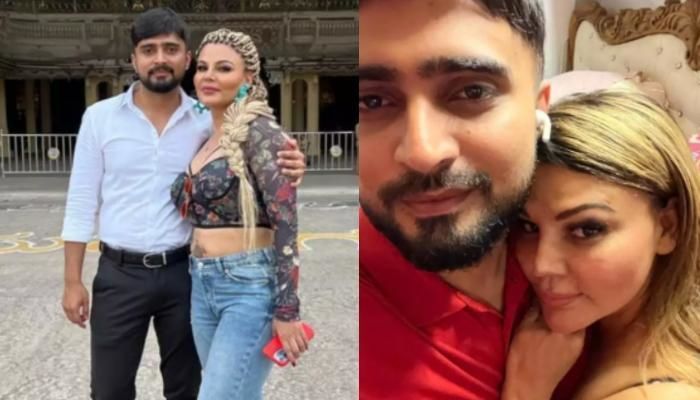 Rakhi Sawant is an internet sensation who often decorates the headlines and she is followed by paps and fans wherever she goes. She also welcomes them with smiles and entertains them. Recently, she was spotted at the airport as she went to pick up his boyfriend Adil Khan Durrani. In the viral video, Adil's ex-girlfriend took a dig at Rakhi Sawant which took the internet into a tizzy.
Recently, shutterbugs spotted Bigg Boss contestant Rakhi Sawant at the airport as she had gone to pick up her boyfriend Adil. Shortly after he came out of the airport she got overwhelmed and hugged him tightly. Interestingly, she had also carried a basket of flower petals and showered on him. Rakhi slipped in a black and white polka dots dress with red boots. She completed her look with tassel earrings and a high ponytail, while Adil adorned a casual look as always.
Many were happy to see them together, and they even congratulated the couple. But, one of the comments was a bit striking, and it has been breaking the internet. The comment was by Adil's ex-girlfriend Roshina Delavari who wrote, "I don't know how a WOMAN could tell so many lies and not feel bad about it. Only because of publicity."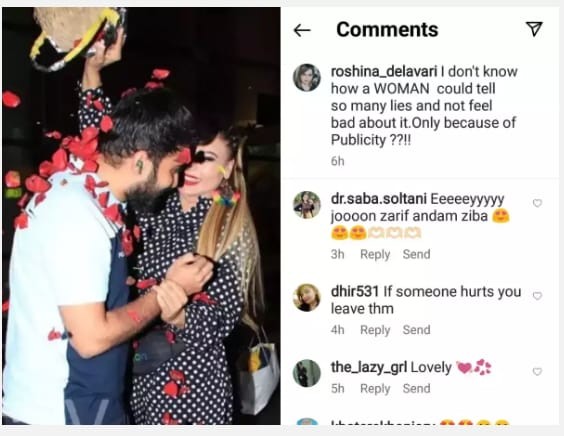 Was she hinting towards anything specifically?

Earlier, Rakhi was spotted at Mumbai airport alone and was sad as Adil refused to meet her in Bangalore. Clarifying this, He said, " Rakhi had gone to Delhi. Instead of coming directly to Mumbai, she chose to come to Bengaluru. Of course, she knew I was in Bengaluru. She landed there and said that I should meet her, but I was locked in a very long work meeting which I could not leave. She got miffed and flew down to Mumbai. Her plan was that she will return to Mumbai with me."

For the unversed, here's some details about Roshni. She is a doctor by profession in the girls of clinical pharmacy. Born on May 25, 1992, she had dated Adil for four years and supposedly even married. Interestingly, she is also an animal lover.
For the unversed, Rakhi was in an abusive marriage with Ritesh, with whom she recently parted ways. She has now found love in Bangalore-based businessman Adil Khan Durrani. She is always seen praising him and looks happy whenever spotted.
Image Source: SpotboyE