Ram Gopal Varma Is Receiving Constant Flak From Netizens For His Inappropriate Dance Video With Inaya Sultana-See TWEETS
Ram Gopal Varma has landed himself in a soup after a video of him dancing with actress Inaya Sultana goes viral. Checked out 'miffed' Twitterati's reaction!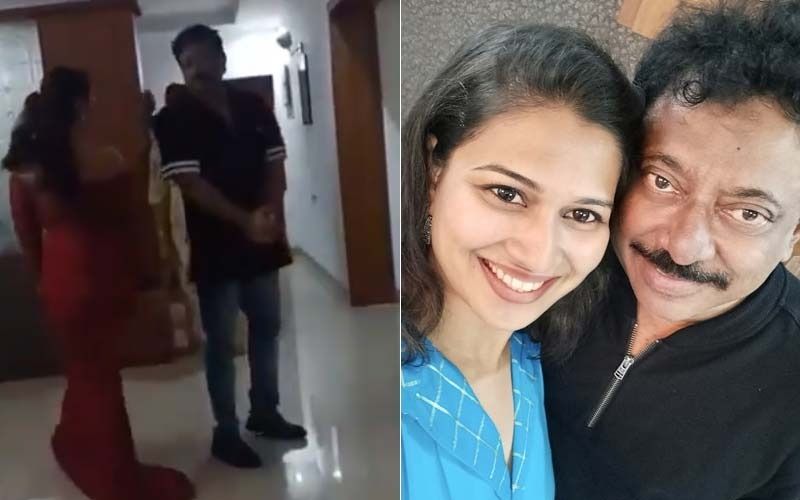 Filmmaker Ram Gopal Varma often makes headlines for his controversial statements and outrageous tweets. Recently, he is once again in the spotlight due to a video he shared on his social media a few days ago. He posted a video from actress Inaya Sulatani's birthday party in which he danced to the song 'Rangeela' with the actress. However, in his tweet along with the clip, he stated that he is not the man dancing in the video and the girl in the red dress is not Inaya.
But, the damage was already done by then. From #BoycottBollywood to pointing out how women have to go through 'these' kinds of casting couch episodes to get a role, fans slammed Ram Gopal Varma for his alleged inappropriate dance. One of the irate users tweeted, "How can you tolerate him (the uncle)...?? He is putting his leg on the table just by your cake. Is that a offer for film or anything like that is that much important that you comprise with your soul. Its feel sad that sweet innocent girls are doing this for anything."
Ram Gopal Varma is also being called out for forcing himself on Sultana and 'groping' her.
Pointing out the same, one miffed Twitter user tweeted, "I can't believe my eyes...itna open grope kar raha hai ye banda and why is the lady not even tryin to put him away!!!!"
Check out more tweets below!
This is best and unbelievable moments of my life love forever 💓 it's my birthday 🎉 pic.twitter.com/lTDowAvixX

— Inaya Sultana (@inaya_sultana) August 21, 2021



I appreciate that you are only tolerating arrogant @RGVzoomin for career break.
Hope next birthday on words you do not have to fall on knees for career break. Belated birthday wishes 🎂

— Srinivas (@5R1N1VA5) August 24, 2021




We understand the pain of all girls who went through such Casting Couch type way.Shame is useless word for you people. @BefittingFacts @desimojito @coolfunnytshirt

— Pradeepp (@Nituveer) August 22, 2021




If making career like this ... gives you fame ....
Please respect urself and your body..might your upcoming kids won't like to see you like this.🙏🏻

— Shweta Gupta🌸 (@ShwetaGup001) August 23, 2021




I can't believe my eyes...itna open grope kar raha hai ye banda and why is the lady not even tryin to put him away!!!!

— hardik (@jetflytranquil) August 22, 2021




Same has been going on since 25 years ..Even Urmil@ M@tondk@r has to go through this for bagging Film Rangeel@ . Lonavala ke resort me kaise yeh D@rinda R@ngeela ka script narrate karta tha..

— santoshputhran11 (@santoshp11) August 23, 2021












While sharing his dance video with Inaya, the director had written, "I once again want to clarify that the guy in this video is not me and the Girl in Red is not @inaya_sultana and I swear this on American President JOE BIDEN."

The clip has been doing rounds on the internet with Twitterati condemning Ram Gopal Varma's objectionable dance moves.