Rangoli Chandel Has The Most Savage Reply To Being Called A 'Spitting Image' Of Sister Kangana Ranaut
Just recently, Kangana Ranaut's sister Rangoli Chandel took to her social media to share throwback pictures from her photoshoot. As Rangoli was called a 'spitting image' of her sister Kangana after sharing the pictures, Chandel has the most savage reply to sharing similarities with her sister. Check it out!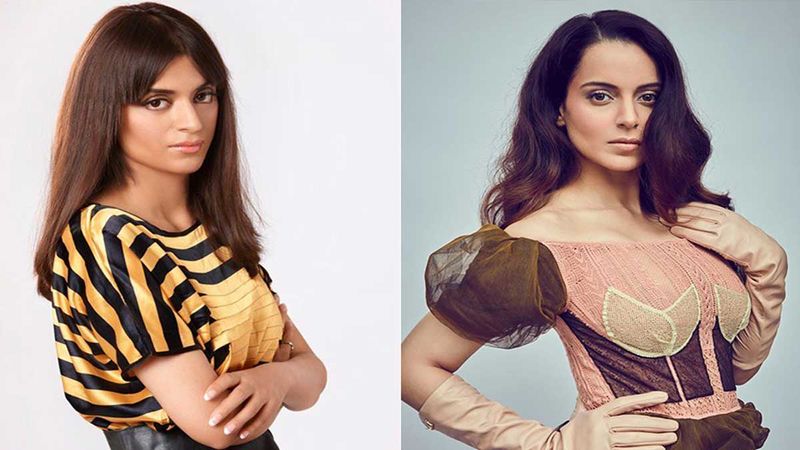 Actress Kangana Ranaut has been the closest to her sister Rangoli Chandel. In the meantime, Rangoli who is an avid social media user, just recently took to her Twitter handle to share some throwback pictures from a shoot she did back in the days. Chandel shared how Kangana forced her to do the shoot and even styled her for it. While Rangoli shared the picture, a news portal compared Chandel with her sister Kangana. In return, Rangoli Chandel has the most savage reply to sharing similarities with her sister.
On Twitter, Kangana's sister tweeted, "magar Chotu toh mere saamne paida hui hai, how can I look like her ha ha but it's flattering that in some way I am compared to my most favourite person." In the tweet, Rangoli questioned that Kangana (Chotu) was born in front of her, so how can she look like her. Moving on, being compared to Kangana, Rangoli added that she will instead take it as a compliment and went on to mention that it's surely flattering being compared to her most favourite person in the world.
For the unversed, Rangoli shared a collage of pictures from her shoot and tweeted, "Getting lot of compliments for my profile picture, thanks friends, this is a photoshoot Kangana forced me to do before Prithu was born, she styled me also, I find these pictures embarrassing but posting as some of you requesting." Later, after sharing the picture on social media, many users also compared Rangoli to Hollywood actress Penelope Cruz and called her a spitting image. Then, Rangoli thanked the user for calling her a spitting image of the Pirates of the Caribbean actress.
Getting lot of compliments for my profile picture, thanks friends, this is a photo shoot Kangana forced me to do before Prithu was born, she styled me also,I find these pictures embarrassing but posting as some of you requesting 🙈 pic.twitter.com/MRCk7odfQI

— Rangoli Chandel (@Rangoli_A) March 18, 2020
You all are too kind, I am not used to so many compliments for my looks since my acid attack but this kind of appreciation motivates me to loose post pregnancy fat, thank you friends, immense gratitude 😇😇🥰❤️🙏 https://t.co/oXmxsrE33h

— Rangoli Chandel (@Rangoli_A) March 19, 2020
Image source: Twitter/ Rangoli Chandel, Instagram/@teamkanganaranut