Ranveer Singh
who is known to be exuberant and full of life all the time, is being heavily targeted by trolls on social media quite often now. We mean trolls have been a commonplace, but when there's nothing substantial or concrete enough to mock someone, then we should just let that person be.
The recent instance of Ranveer Singh being an easy troll-target has raised several anxious questions in our mind. Why again? What for? So, Ranveer who is known to be a diehard romantic was
recently spotted with wifey Deepika Padukone outside Soho House, Juhu
. As the couple exited the place, paparazzi went clickety-click on them and Ranveer being his gentleman self, dusted off Deepika's jeans and gave her a peck. All this happened in front of the shutterbugs and the video went viral.
In all honesty, we think it's a very sweet moment and quite a spontaneous one. But, there are always going to be haters, who will pinpoint for no valid reason. So here too, a chunk of the followers started trolling the actor for being overtly dramatic in the eyes of the camera. His warm gesture was rubbed off as a mere publicity gimmick for the sake of the cameras. Here are some trolls: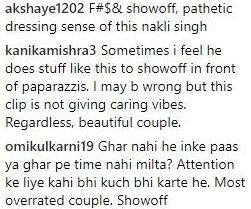 This was totally unnecessary. Ranveer Singh is synonymous for being this energetic soul. Right from his funky, bold outfits to his harkatein on movie sets, he is known to be this high-on-energy guy. We have also seen his romantic side for Deepika time and again. So, we don't think there's anything novel or unacceptable when he decides to do a sweet gesture for his wife.
We think it's high-time the trollers focused on pertinent issues plaguing the society rather than focus on what Ranveer Singh is up to and troll him for no fault of his. Yes, criticism is a part and parcel of life, but only when it's absolutely needed. Not when a newly married couple is just engaging in a cute PDA moment that's neither obscene nor harmful for public consumption. That's all!
Image Source:- Viral Bhayani/instagram/viralbhayani