Ranveer Singh's 'Unprecedented Level Of Hotness' Is Now Achieved, Thanks To Katrina Kaif – Watch This Hilarious Video
Ranveer Singh and Katrina Kaif have recently shared a little advert of sorts for Kat's new range of cosmetics and we must tell you that it's hilarious AF! P.S. Someone please cast these two in a movie, already!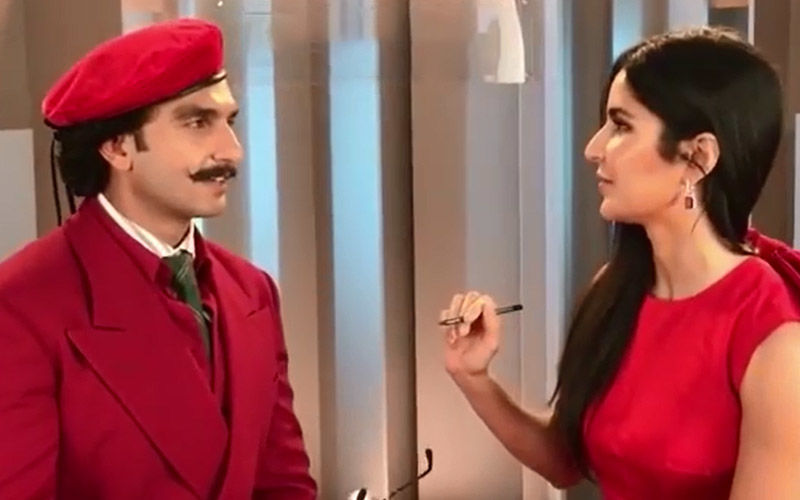 Katrina Kaif and Ranveer Singh have never shared the screen space on the big screens and it was sort of difficult to judge if they will make a good pair or not. But well, well, well, looks like this two will make an electric and a 'red hot' pair and this recent video which was shared by the actress is the proof where both of them are seen twinning in red and hence red hot. Katrina and Ranveer who are all dressed for Vogue Women Of Year Awards 2019 were seen featuring on the Bharat actress' cosmetic brand, Kay Beauty. However, the banter between the two is not only hilarious but scintillating too.

Just a short while ago, Katrina Kaif shared a cosmetic TVC promo on her Instagram handle where she is seen promoting her cosmetic brand as she touches up her lipstick, enters Ranveer Singh. The Padmaavat actor comes in the video with oodles of style just to revamp his 'unprecedented level of hotness' by the help of none other than Ms Katrina Kaif who then applies her brand's Kajal - High Drama Smokey Kajal on Singh only raising his already hotness quotient. This small clip left us in splits. Watch the clip below:
Meanwhile, Vogue Women Of Year Awards 2019 winners list is revealed and Kaif has been crowned as the Risk Taker Of The Year while Ranveer is been titled as the Man Of The Year. Other Bollywood celebs like Ananya Panday bagged Youth Influencer Of The Year award, Taapsee Pannu – Trailblazer Of The Year (Female), Alia Bhatt – Performer Of The Year and Anushka Sharma – Style Icon Of The Year. The award function was held on Saturday, October 19, 2019 where many Bollywood biggies put their best fashion foot forward.
P.S. Someone please cast these two in a movie, directors, are you guys listening?
Image source: Instagram/ Katrina Kaif