Rhea Kapoor Shares How To Identify A Troll; Slams, 'You Wanna Tag My Mother In A Threat To Rape Me? Do It On Your Profile'
After being targeted by a troll who issued rape threat, Sonam Kapoor's sister Rhea Kapoor not only slammed trolls, but also shared pointers on how to identify them.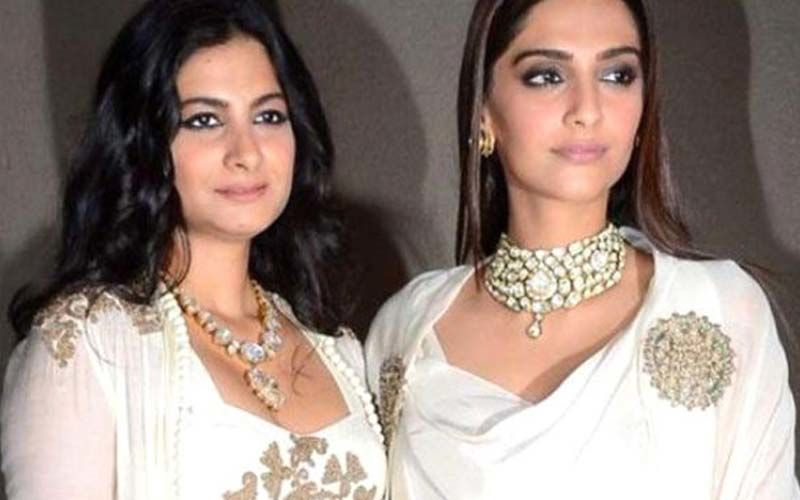 Sonam Kapoor's sister Rhea Kapoor had enough of trolling targeted at her and her family, and she took to her Instagram to slam the trolls and call them out. Her post also suggested that she got a rape threat online, on which the troll had tagged her mother. She wrote a lengthy post, beginning with how to identify a troll on social media, and pointed out how they make fake profiles simply to troll others, hurl abuses and spew hatred online.
Rhea Kapoor took to her Instagram story and wrote that generally, these trolls wouldn't have a picture of their own and often hide their identity behind a fake profile picture, say calendar images of Lisa Haydon or other models. She wrote, "Let's play a game. Soo hater comment. Go to profile. Possibilities Hater has 0 followers. Probably no picture or picture of person who Is most definitely not them (see as old calendar images of Lisa Haydon, some stock Images of other calendar models, they love calendars) specifically follow people they intend to spam."
"Most definitely a private profile. So brave, Trolls . Privacy is privilege too," she wrote. Rhea further blasted the trolls and added, "You want to tag my 64 year old mother in a threat to rape me? Do it on your profile so that your mom can see who you've become too. That Is If you are a real person."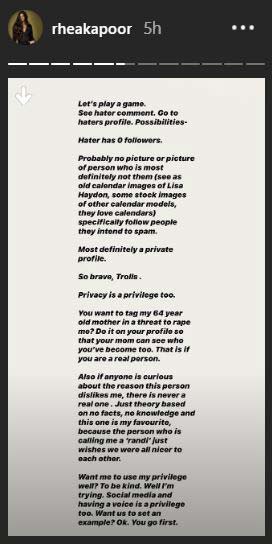 Further concluding the note, Rhea added that there is never a real reason for the hate, and they are simply theories based on no facts and no knowledge. "Just theory based on no facts, no knowledge and this one is my favourite, because the person who is calling me a 'r***i', just wishes we were all nicer to each other. Want me to use my privilege well? To be kind. Well I'm trying. Social media and having a voice is a privilege too. Want us to set an example? Ok. You go first," she wrote.
Sonam Kapoor also shared this post of Rhea's on her Twitter account, along with other such posts, and wrote, "This is some of comments coming my way. All the media and all the people who've encouraged this sort of behaviour and instigated it. This is on you. People talking about how one should have been kind to someone are doing worse to others."
Image Source:- ujjwalprabhat, instagram/rheakapoor