Yesterday was a difficult day for Salman Khan. And Rishi Kapoor was among the first to lend his support to the actor's family as he faced a 5-year jail term.



Of course, Bollywood came out in scores to express their solidarity during such a difficult time. While many stars visited Salmans residence, most chose to express their views on Twitter.

As luck would have it, there were a few posts that soon became a matter of debate, thanks to their thoughtlessness and insensitivity. Yes, were talking about singer Abhijeet Bhattacharyas posts.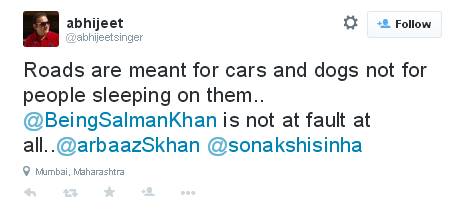 Ajaz Khan had posted on Facebook : "To hell with INDIAN law our Government is responsible for this. Garibo ko ghar do they sleep so close to the road U do little mistake and this hap mere dost se bina piye Yeh huwaa hai in Gujraat pray for Bhai"

While these posts enraged many, Rishi too wasnt going to take it lying down. He gave both Abhijeet and Ajaz a piece of his mind and blatantly called them wannabe Chamchas of Salman.





(Tune in to SpotboyE.com The Show on Monday, Wednesday and Friday at 9 pm and Tuesday, Thursday and Saturday at 1 pm on 9XM)