The year 2020 is a forgetful one in every way. While the world continues to battle a pandemic, the Bollywood industry is waking up to some of the other shocking news every day. After Irrfan Khan, Rishi Kapoor and Sushant Singh Rajput, today, we lost yet another legendary artiste, Saroj Khan. The veteran choreographer was hospitalised last week after suffering from breathing issues; however, her diabetes' escalated last night and despite the doctors trying to revive her, Saroj didn't respond and breathed her last this morning. Ever since the news came out, celebrities across are pouring in their heartfelt tributes and thanking the late choreographer for her valuable contribution.
The most heartbreaking one, however, came in from Saroj's granddaughter, Nabila Khan. Taking to her Instagram account, the lady penned a moving note for her beloved Nanna and expressed gratitude for giving her so many valuable life lessons. "You always had something to tell me, something that'll help me upgrade myself into a better version of Nabila. You never had complaints against whatever mistakes I made, just few words of correction. You were my heart, my backbone, the most important part of my life, my teacher, grandmother, inspiration, basically the only reason I lived. It's unreal to even think that you're not physically with us anymore but, spiritually, I promise you, you'll always be present in our hearts, minds and in this house, a house that felt like home with you around," read the first half of Nabila's caption.
She added, "You knew exactly what would keep us going. You knew how to pick us up when one of us fell, you were the roof to the house we built, the love that bloomed inside it. It'll always be there, you'll always be there. In our dreams, our thoughts, prayers and our hearts. We love you Nanna, we'll never stop missing you, we're incomplete without you, today all we ask is for you to reach Jannah, meet all our other loved ones there and just bless us with all the patience that we have to muster up. Rest in peace, our Home."
Check out her post below: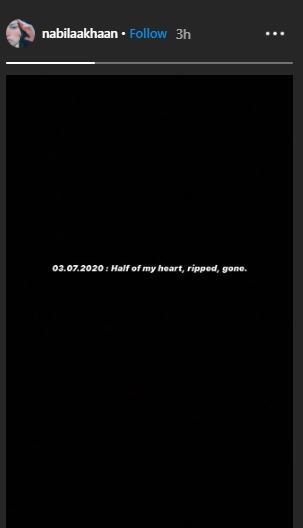 Our heartfelt condolences to the Khan family.
image source: instagram/sarojkhanofficial