Have you ever thought how it would be if dishes were named after your favourite celebs? Well, that's what is happening now. Pictures of a few menu cards are getting viral on social media which consist of special dishes, named after Deepika Padukone.
A few restaurants have Dosa and Parantha thali named after the actress. And guess what? The over-enthusiastic husband is ready to order that. Ranveer Singh took to Insta stories and shared the picture of same menu card and wrote, "I'd eat that". Take a look: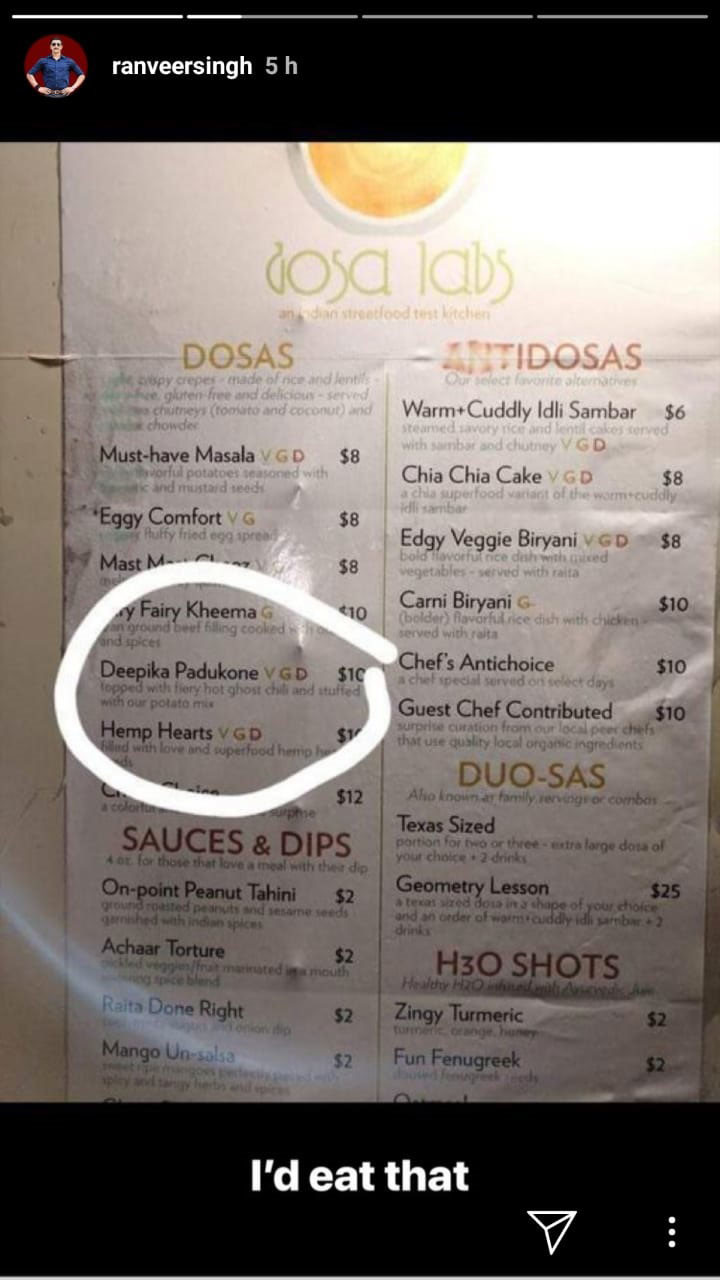 Deepika too shared the pictures of the menu cards and shared her joy over it.
He is surely a smitten hubby! Ranveer has called marrying Deepika Padukone his life's biggest achievement. In a recent interview, he told Hindustan Times, "Honestly, it's an amazingly blessed time. I am really happy about everything but the best part of it all is that I've got married. You know, in spite of everything that has happened in my life, it's the first time I feel that I have achieved something, ke maine life mein kuch kiya hai, kucch ukhada hai (laughs). It's a really warm and wonderful feeling. I feel so grounded, secure and empowered. If feels as if I have a superpower now. With her on my side, I feel invincible and protected knowing that there's someone who cares about me. Our relationship is really stronger and deeper than ever before."

Looking back at 2018, he said, "I got my biggest commercial success as well as an avalanche of acclaim. And it was all for a part that many people initially suggested me to not take up. Playing a negative character was a huge risk and a big gamble but it clearly paid off in a massive way. Then, Gully Boy turned out to be a really fulfilling creative experience. It getting selected for the Berlin Film Fest came as an awesome piece of news. But last year, I also lost my naani (maternal grandmother), which was very unfortunate. Then, I got to do full 'herogiri' in Simmba. I think I was born to do that – be a massy masala film hero. It was a very rewarding and the most fun experience I've ever had."


Image Source: The Asian Age & instagram/ranveersingh