Shy Vidya Balan Gets Dragged To Dance Floor By Her Husband Siddharth Roy Kapur- EXCLUSIVE
Vidya Balan is a confident, vibrant lady who lights up the screen with her presence and power-packed performances. But, off it, she's a shy woman who wouldn't hit the dance floor. In fact, her husband Siddharth Roy Kapur drags her to a discotheque. Hear it from Vidya!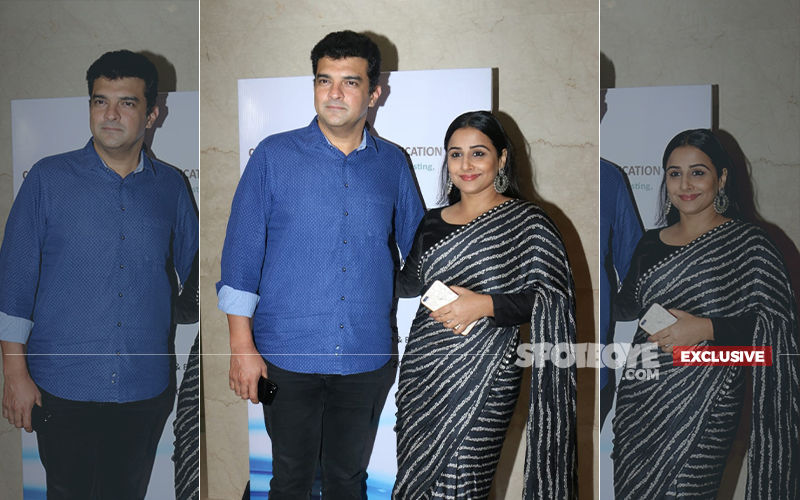 Mission Mangal, a film that starred several good performers continues minting big money at the box-office. Vidya Balan who essayed the role of Tara Shinde in the film, has been amassing praises from all quarters.
In the movie, Vidya's character drags her on screen husband Sunil Shinde played by Sanjay Kapoor to the disco. We asked if she has ever dragged her real life hubby Siddharth Roy Kapur to the discotheque. She replied, "He drags me, because he loves to dance. Siddharth is a fabulous dancer. Jab parties hoti hai, that time, Siddharth will be the first one to be on the dance floor. And then he drags me and I'm like, 'No no'. I'm very conscious."
We were quite surprised by her response to which she quickly added, "In front of the camera I can do anything; I trust the camera, I love the camera." While we got our answer on who drags whom at the discotheque, we wanted to know about the alcohol part as in the film, her character even forces her husband to have beer.
Vidya said, "I don't drink and it doesn't suit me also. I fall sick. Like, I have tried many times. During college and when I had just started working, ek hota hai na ki doston ke saath. So, I have tried but I feel horrible after it, so I don't even touch it anymore. If a dessert has alcohol also, I won't touch it. Siddharth laughs and says, 'Woh soongke hi tumko chadh jaati hai.'
Then, she stated that her husband hasn't even seen the film yet. We further asked her if she plans to hike her price from here on for her future projects. She replied, "Yeah hopefully. And I hope I have reason after every film to keep hiking my price." WATCH THE VIDEO BELOW:
The conversation veered towards a serious issue like body-shaming
on which Vidya said, "No, it doesn't affect me. One, I'm not aware of what they're saying because I don't read anything or I don't watch anything. And as long as I'm happy with the way I'm looking, then it really doesn't matter to me. And now therefore I think people are only praising me, you know that's what I hear. I don' hear the rubbish. The more I began to love and accept myself the way I am, nothing really bothers me."
We also did a quick rapid fire round with the actress and we reproduce the video below:
Image Soure:- Viral Bhayani