Social Media Rockstars Of 2020: Sonu Sood, Swara Bhasker, Diljit Dosanjh, Kartik Aaryan And Taapsee Pannu Put Social Media To Good Use
From the likes of Diljit Dosanjh and Sonu Sood to Kartik Aaryan, Swara Bhasker and Taapsee Pannu; here's a rundown of B-townies that put social media to good use in 2020!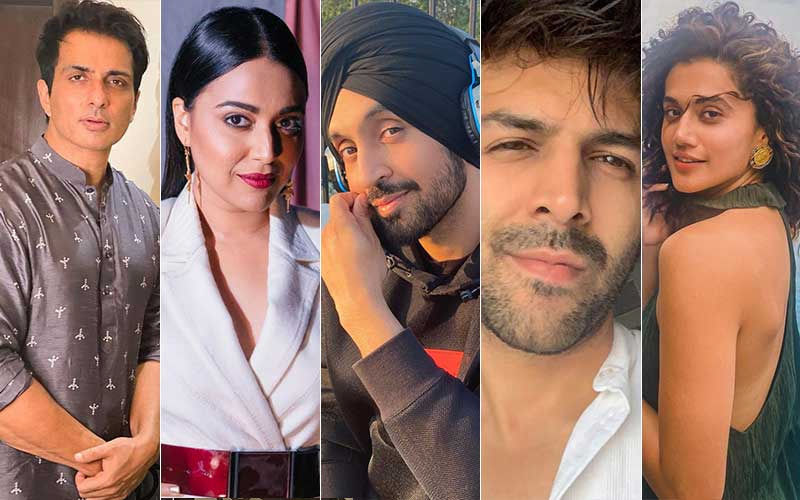 2020, as a whole, has been partially dull. However, when it comes to social media, one can't deny the fact that a hell lot of interesting, some controversial, content has been churned out, especially by Bollywood celebrities. Well, there's been a huge section of stars that put their Twitter accounts to the right use and earned themselves a lot of recognition and praises. So, as we inch close to 2021, here's presenting a rundown of all the stars that made it to the headlines for their good social media deeds.
#1 Sonu Sood
We bet you ain't surprised to find Sonu Sood's name on the top of this list, are you? This reel-life villain turned out to be a real-life hero for lacs and millions of people. It all started during the Coronavirus lockdown, which had a massive number of migrants stuck in various cities away from their homes. The Dabangg star was quick to come to their rescue by evacuating them to their loved ones by arranging buses, trains and even flights. Sonu has even born the expenses of many people in utter need, paid for their hospital bills, school/college fees, got many employed. He continues to do so, a messiah indeed!
#2 Kartik Aaryan
At the beginning of the lockdown, the Pyaar Ka Punchnama actor had come up with his debut chat show titled Koki Poochega, an attempt to bring some rumours and myths about the COVID-19 to rest and to also enlighten the masses. Kartik actor smartly used the power of his reach and his sense of humour to get the right message. Well, the actor even managed to get the frontliners and COVID warriors amidst their busy schedule, so that more people seated at home can be enlightened of the situation and know the right story. This move by Kartik was lauded by one and all!
#3 Swara Bhasker
Swara Bhasker's Twitter antics have not been hidden from the world. As for this one, she stood up for late actor Sushant Singh Rajput's GF Rhea Chakraborty, who had become of the media trials after the Kedarnath actor's death. She wrote, "I don't think even #Kasab was subjected to the kind of witch-hunt on media.. & media trial that #RheaChakrobarty is being subjected to! Shame on Indian Media.. Shame on us for being a toxic voyueristic public consuming this poisonous hysteria.. #RheaDrugChat #SushantSinghRajput." Swara even raised awareness on the importance of mental health.
Rhea is being subjected to a bizarre & dangerous media trial fuel led by hugely problematic impulses of mob justice. I hope the Hon'ble #SupremeCourt will pay heed & take fake news spinners & conspiracy theorists like Repooplic, Poopindia & others to task. Let the law decide. https://t.co/P6ZJhw2ALw

— Swara Bhasker (@ReallySwara) August 10, 2020
#4 Taapsee Pannu
Just like Swara Bhasker, Taapsee, too, came out strongly to criticise the media trial Rhea Chakraborty was being put through in the wake of Sushant Singh Rajput's demise. "I didn't know Sushant on a personal level nor do I know Rhea but what I know is, it only takes to be a human to understand how wrong it is to overtake judiciary to convict someone who isn't proven guilty," tweeted the Badla actress. Ever since then, Taapsee continued raising her voice in support of Rhea and asked everyone to stop bullying her until she's proven guilty.
Every woman who is with a relatively more successful man is NOT a 'gold digger' and for the rest , truth and investigating agencies will do their job. One step at a time. https://t.co/EYPmTplu5Q

— taapsee pannu (@taapsee) September 5, 2020
#5 Diljit Dosanjh
Diljit Dosanjh has become everyone's hot favourite post his recent Twitter feud with the controversy queen, Kangana Ranaut. It so happened that the Queen actress mistook an elderly woman at the ongoing farmers' protest for another old lady. Kangana, in her tweet, even went on to say that the woman charges 100 rs to be a part of such protests. Well, she soon deleted her tweet after coming across a lot of criticism. Among many others, Diljit slammed the actress for insulting a mother-figure, which led to a nasty fight between the duo. Well, the Punjabi munda won this time as he got supported by a streak of his industry colleagues and fans. Chants of Diljit ne 'dil jeet' liya were across the internet!
image source: instagram/sonu_sood, kartikaaryan, reallyswara, taapsee, diljitdosanjh