It's been almost two months since Sushant Singh Rajput's death, however, no one has clarity on what actually happened with the star. He reportedly died by suicide but he did not leave behind a note. Later, Sushant's father KK Singh filed an FIR against Sushant's girlfriend Rhea Chakraborty allegedly accusing her of abetment to suicide and more. Now, she has filed a plea seeking the transfer of the FIR to Mumbai Police. The Supreme Court has reserved its decision in the case, and meanwhile, everyone is demanding that the case be handed over to CBI.
Bihar Government requested the centre to let CBI investigate Sushant Singh Rajput's death case and during the first hearing of Supreme Court, it was revealed that the centre has granted the request. However, a lot depends on the Supreme Court's verdict. Among the others, Sooraj Pancholi too has demanded that a CBI probe should be initiated in Sushant's case. Sooraj came into spotlight as rumours suggested that he was friends with Disha Salian, Sushant's ex-manager who died a few days before his death.
Taking to his Insta stories, Sooraj wrote that Sushant's family deserves to get a closure by knowing what actually happened with the star. He wrote, "I really pray and hope that Sushant's family get the closure they need! They really deserve a proper CBI investigation, It has been a long battle for them already! They need to know what actually happened, and the World needs to know too! #CBIForSSR".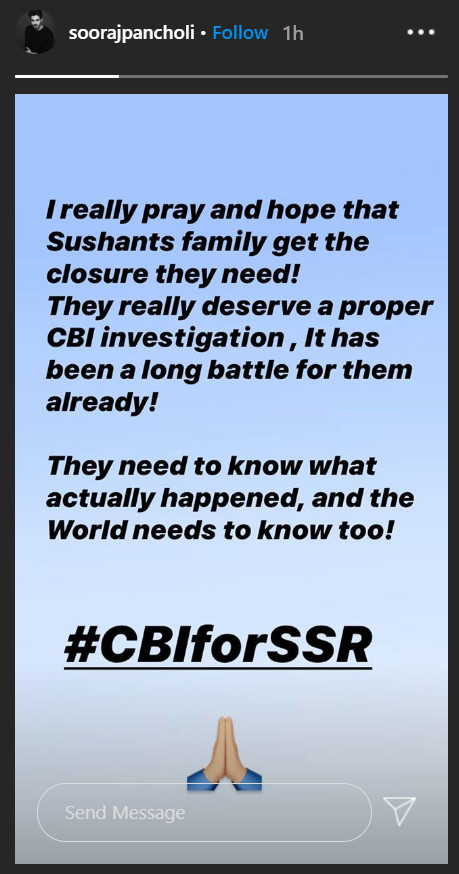 Earlier, it was Sushant's rumoured ex-girlfriend Kriti Sanon who made a social media post demanding a CBI probe in Sushant's case.
Image Source: Instagram/soorajpancholi