Sooryavanshi Trailer Twitter Reaction: Akshay Kumar, Singham Ajay Devgn, Simmba Ranveer Singh's Cop Universe Makes Fans Go 'Ek Number'
The trailer of Sooryavanshi featuring Akshay Kumar, Ajay Devgn and Ranveer Singh is out and it's a complete blockbuster on Twitter, check out some of the reactions below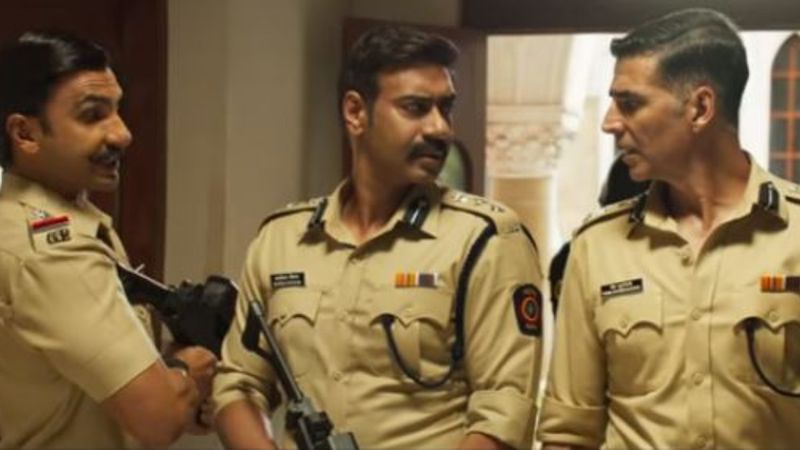 The trailer of Rohit Shetty's Sooryavanshi, rather his very own universe, featuring the top cops of Bollywood is finally out and it's just wow! The film introduces Akshay Kumar as Sooryavanshi along with already popular Ajay Devgn as Singham and Ranveer Singh as Simmba and it's got everything you expect in a Rohit Shetty entertainer. Let's not miss Katrina Kaif, who is also seen in a pivotal role of Sooryavanshi's wife. The trailer boasts of some high-octane action, thrilling background music, emotions and a lot of flying cars, of course.
Well, just like us, the netizens, too, seemed to have approved this Rohit Shetty's latest cop drama and the crazy reviews on Twitter are proof. While some are going gaga over the Sooryavanshi, Simmba and Singham reunion, many have been raving praises over Akshay Kumar's impressive cop avatar. A user wrote, "Baap trailer #Sooryavanshi, super excited for 24th March and best wishes for the team of #sooryavanshi...Mass hysteria faad. B-L-O-C-K-B-U-S-T-E-R."
While another fan commented, "@akshaykumar roars as Veer #Sooryavanshi in this guaranteed 200-crore film, with cameos by @RanveerOfficial and @ajaydevgn. Lashkar, ATS, all in. Aaya police."
Check out some of the response below:
OMG! Full to mass masala Trailer. I never saw such action trailer in my life. The way #RohitShetty present that is Outstanding. #AkshayKumar is on 🔥. The final scene when #Simmba , #Singham , #Sooryavanshi come together that will blast on screen. #SooryavanshiOn24thMarch

— Rahul Wadhwani (@WadhwaniRahul1) March 2, 2020
#Sooryavanshi trailer is looking 💥💥💥💥💥💥💥
Get ready for 24th march..#Singham #Simmba#SooryavanshiOn24thMarch

— Anshuman Sahu (@anshuman_319) March 2, 2020
#SooryavanshiTrailer
Here it is... Power-packed trailer of #Sooryavanshi... #AkshayKumar in full blown action role...... #SooryavanshiTrailer: https://t.co/kBGKR2e1bk https://t.co/zveEOtwmWN

MOST STYLISH COP IS HERE pic.twitter.com/K9LlheZGTU

— BALA🔥 sooryavanshi🔥BALA (@akshaydaafan) March 2, 2020
Finally Most awaited #Sooryavanshi
Trailer is out. Its looking mixture of mass & class 💥💥🔥🔥
Surely give you memories of HOLIDAY, BABY & KHAAKI ❤️
Akki, Ajay, Ranveer looking awesome together.
High voltage drama Loading in commercial way @akshaykumarhttps://t.co/3daEPxIdhG

— Vikipedia (@VICKed__007) March 2, 2020
The badass Cop with the badass trailer 🤩🤩 @akshaykumar Khatarnaak action 😁😍 #SooryavanshiTrailer #Sooryavanshi

— Akki × Sooryavanshi (@Akki02399296) March 2, 2020
Fantastic trailer of #Sooryavanshi
Trailer is full of action and realism.@akshaykumar is heart and soul of it and seems to be good support from @RanveerOfficial @ajaydevgn is only in the climax.
But real winner is the director Rohit Shetty.
It's his biggest movie till date

— Vinay Prabhakar🇮🇳 (@ProudIndianVP) March 2, 2020
Also, check out the trailer below:
image source: youtube/reliance entertainment