Swara Bhasker Says Evidence Suggesting Sushant Singh Rajput's Family 'Lied' Is Emerging, Compares Media Trial Against Rhea To Salem Witch Hunt
Swara Bhasker recently compared media trial against Rhea Chakraborty to that of Salem witch trials in the 17th century. She said that while evidence suggesting Sushant Singh Rajput's family has lied is emerging, no proof of murder has been found so far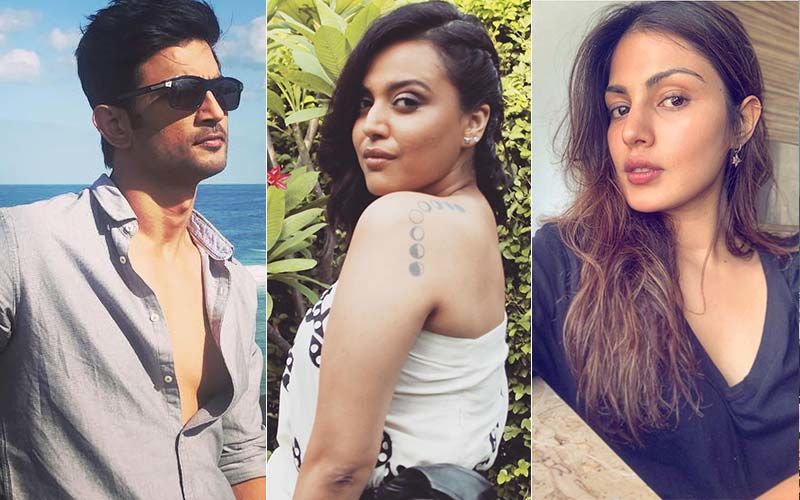 It has been over two months since Sushant Singh Rajput died, and the mystery around his death only continues to grow as each shocking claim and revelation surfaces. The CBI has now taken over the investigation in Sushant's death case, and has, so far questioned several people linked to the late actor. Meanwhile, after Sushant's father filed an FIR accusing Rhea of abetment of suicide, Rhea has been at the receiving end of extreme hatred, and abuses on social media. Now, Swara Bhasker has compared media trial against Rhea Chakraborty to that of Salem witch trials in the 17th century. She said that while evidence suggesting Sushant Singh Rajput's family has lied is emerging, no proof of murder has been found so far.

Swara Bhasker wrote a column for The Week, wherein she spoke up against the media trials and wrote how she often thought about Arthur Miller's The Crucible- which is a dramatization of Salem witch trials- in the days following Sushant's death. She wrote that while at first, nepotism was being blamed for Sushant's death, people later turned on to Rhea Chakraborty after the FIR was filed against her. What followed was a slander campaign and media trial and Swara slammed the conspiracy theories, and Rhea being called slanderous names.
She further wrote how the CBI has found no proof of murder so far in the death case. "At the time of writing, the CBI has not found any proof of murder in the case. But evidence that suggests that Rajput's family has lied is emerging. Watching this case play out and turn into a senseless, hysterical, conspiracy-heavy TV soap-like reality-show, one cannot help but wonder at the human condition," she wrote.
Rhea is being subjected to a bizarre & dangerous media trial fuel led by hugely problematic impulses of mob justice. I hope the Hon'ble #SupremeCourt will pay heed & take fake news spinners & conspiracy theorists like Repooplic, Poopindia & others to task. Let the law decide. https://t.co/P6ZJhw2ALw

— Swara Bhasker (@ReallySwara) August 10, 2020
Image Source: Instagram/Swara Bhasker/Rhea Chakraborty, Facebook/Sushant SIngh Rajput