Swara Bhasker Slapped With A Legal Notice For Addressing A Kid Who Called Her Aunty As 'Ch***ya' And 'Kamina'
A clip sees Swara Bhasker narrating her incident of addressing a four-year-old kid, who called her aunty, as 'Ch***a' and 'Kamina'. This hasn't gone done well with the internet!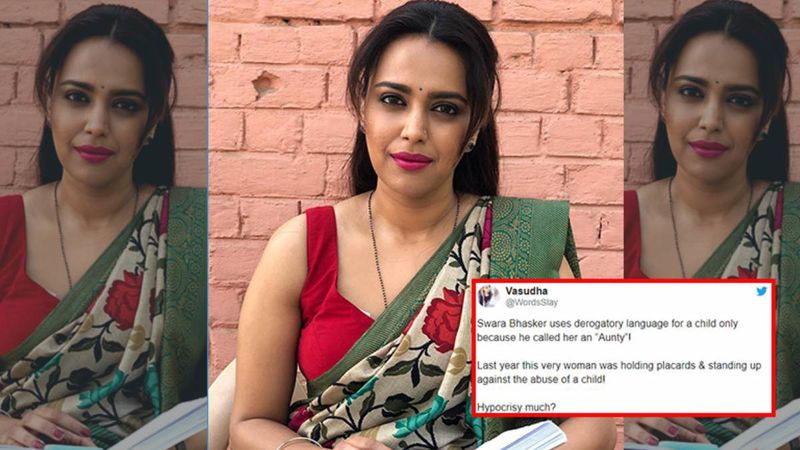 Bollywood actress Swara Bhasker and controversies go hand in hand, and we are sure you would agree to us on this. Right from her bold and unabashed statements to some really controversial takes on the Indian politics; Swara Bhasker is trolled for several reasons, including her films. The most recent incident took place after Swara Bhasker graced a comedy talk show. During the same, the Veere Di Wedding actress shared an instance when a four-year-old kid called her aunty, to which she responded by calling him a 'kamina' and a 'ch***ya'.
A clip of Swara Bhasker narrating this story has gone viral on the internet. In the clip, Swara could be heard saying that she was already disappointed with the shoot and then this kid calling her an aunty pissed her off even more. The actress further went onto label all the children as 'evil'. This took place when Swara was new to the showbiz. Unsurprisingly, this hasn't gone down well with the netizens and they are leaving no chance of blasting Swara Bhasker.
Check out the video below:
This is 'humour'? Calling a 4 year old child a 'Ch*^%a' a 'Kameena'? Saying with great confidence that children are 'evil'? #PanautiJunior is sounding completely deranged here, and that moron @kunalkamra88 is watching like a drunk dodo at this 'wisdom'. pic.twitter.com/wM7f401tkm

— Shefali Vaidya ஷெஃபாலி வைத்யா शेफाली वैद्य (@ShefVaidya) November 4, 2019
An angry user wrote, "Swara Bhasker uses derogatory language for a child only because he called her an "Aunty"! Last year this very woman was holding placards & standing up against the abuse of a child! Hypocrisy much?" while another user added, "Swara Bhasker needs help. Pathetic."
Check out the tweets below:
Swara Bhasker uses derogatory language for a child only because he called her an "Aunty"!

Last year this very woman was holding placards & standing up against the abuse of a child!

Hypocrisy much? pic.twitter.com/md4JR8Ieom

— Vasudha (@WordsSlay) November 5, 2019
On one side, Swara Bhasker held placard for the justice for child rape & murder victim in Kathua case.

On the other side, Swara Bhasker verbally abused & called a child 'ch***ya & kam**na' just because he called her Aunty.

— Anshul Saxena (@AskAnshul) November 4, 2019
This is 'humour'? Calling a 4 year old child a 'Ch*^%a' a 'Kameena'? Saying with great confidence that children are 'evil'? #PanautiJunior is sounding completely deranged here, and that moron @kunalkamra88 is watching like a drunk dodo at this 'wisdom'. pic.twitter.com/wM7f401tkm

— Shefali Vaidya ஷெஃபாலி வைத்யா शेफाली वैद्य (@ShefVaidya) November 4, 2019
Was listening to Swara Bhasker's video of she using the cuss words for a kid. My brother was listening he asked "ye Kiski awaz hai" I replied "Swara Bhasker ki" he said "vo kaun hai" and thn I showed him her picture he still asked "han par ye hai kaun?" #Swara 😭

— Chill insaan (@chill_insaan) November 4, 2019
The matter has really blown out of proportion because, reportedly, an NGO called Legal Rights Protection Forum has filed a complaint the actress to the National Commission for Protection of Child Rights and demanded a strict action against her. An excerpt from their long complaint read, "One could immediately sense the underlying implicit and unconscious bias in this supposedly "funny" video that too from a person who is widely regarded as Popular by a section of the Indian Media."
The complaint continued, "Such usage of words denigrating language of the innocent Kids of the Southern Part of India spread wrong precedent across India portraying them in a negative picture. It also creates negative impact on the Children where families of different communities/Places/Regions are living together & in this modern society. These type of statements/comments/dialogues are a serious threat to our National Integrity."
image source: instagram/reallyswara