Taimur Ali Khan Screams 'No Photo' As He Enjoys A Stroll In Dharamshala With Kareena Kapoor Khan, Saif Ali Khan, Malaika Arora And Arjun Kapoor- WATCH
After celebrating Diwali in Dharamshala, Saif Ali Khan, Kareena Kapoor Khan, their little munchkin Taimur Ali Khan enjoyed a stroll with Malaika Arora and Arjun Kapoor. Taimur's reaction is unmissable, take a look at the video!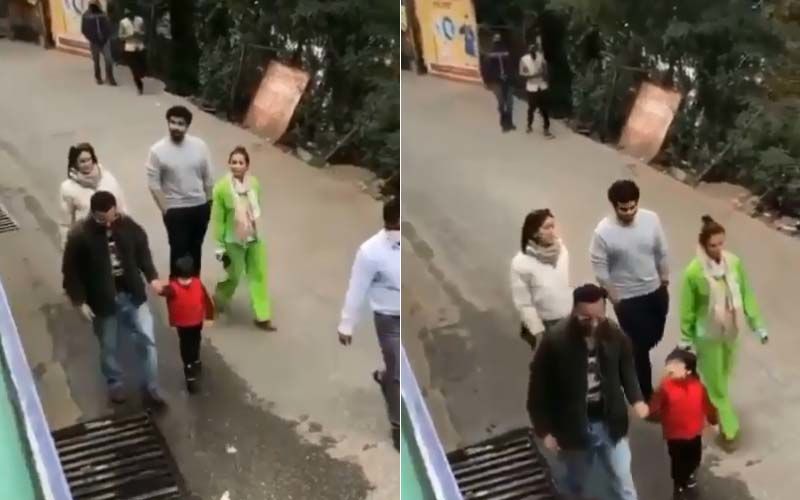 Saif Ali Khan, Kareena Kapoor Khan, Taimur Ali Khan are currently in Dharamshala. Bebo and Taimur headed there to celebrate Diwali together. Malaika Arora was also seen joining them in the festivities and Arjun Kapoor is also in Dharamshala as he is shooting with Saif for their upcoming film Bhoot Police. After celebrating Diwali, Kareena, Saif, Taimur, Malaika and Arjun were seen enjoying a stroll together on the streets, and the video has gone viral on social media.
While Taimur can be seen holding Saif Ali Khan's hand while walking, he can later be seen creaming 'No photos' in the video. Taimur looks absolutely adorable in a red jacket with black pants, and the video shows him looking upwards towards the windows and balconies where people must have been recording videos of them, that Taimur yelled 'no photos' loudly. Saif Ali Khan can be seen in a brown jacket with denims, Kareena oped for a white jacket and a shawl. Meanwhile, Malaika Arora had a green outfit on, while Arjun looked cool and casual in a grey tee with black pants.
Take a look at the video below:
Kareena Kapoor Khan had told Mumbai Mirror that she will be celebrating Diwali in Dharamshala, and that there would be no grand celebration. She said, "Saif is shooting in Dharamshala for a film, and I have never been there, so Taimur and I will join him there. We are actually looking forward to setting out. It will be great to travel to the mountains and spend time in the open air and sunshine."
Image source: Instagram/kareenakapoorteam