THROWBACK! Amrita Singh Was Helpless After Her Divorce With Saif Ali Khan; Reveals She Was Forced To Take Small Work To Earn Living To Raise Her Kids
Amrita Singh, after her divorce from Saif Ali Khan, was helpless and she had to leave her four-year-old son, Ibrahim Ali Khan, and his elder sister, Sara Ali Khan, at home to join the shooting floors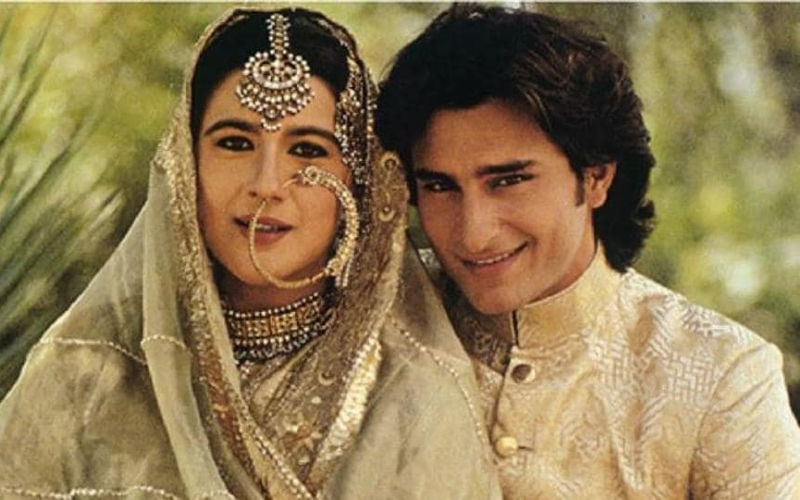 Amrita Singh witnessed a major setback following her separation from Saif Ali Khan. The former couple is the proud parents to Sara Ali Khan and Ibrahim Ali Khan. However, it was Amrita who took up the responsibility and decided to grow her kids and she is undoubtedly a proud single mom.

The senior actress has been the sole pillar of strength for her children amidst the bigotry against single moms in this world.
Now, in an interview, Amrita bared her heart out as she revealed how she had to work day and night after the 'Hum Tum' actor left them to provide Sara and Ibrahim with a lifestyle they were used to.
Amrita is quite a popular personality in the tinsel town, all thanks to the list of cult hits throughout her acting career. Being labelled as one of the prettiest divas of her generation. With films like Chameli Ki Shaadi, Mard, and Raju Ban Gaya Gentleman, she created a niche in Bollywood.
However, after the divorce, she was helpless and had to take small work to earn a living for herself and her two children.
In an old interview with the IANS, she had said: "I need to work to support myself and my kids. No one pays for my support."
Well, making a comeback for Amrita wasn't easy following her divorce in 2005, and she had to leave her four-year-old son, and his elder sister at home to join the shooting floors. At the time, Amrita took up Ekta Kapoor's TV serial, Kavyanjali, to earn money and was also offered good films simultaneously.
In the same interview, she stated: "I do regret the fact that my son Ibrahim who's just four can't get the same attention from me as my daughter Sara did. Because Mama is out making a living. A fish can't swim and fly."
The actress tried to maintain a work-life balance, despite her busy schedule and loads of responsibility. As per the reports, Amrita worked for 20 days a month to spend the rest of her days with her kids.
A smart move indeed! We hope you are taking notes from Amrita Singh.
In their small world, Amrita felt the happiest mom as she was able to provide a better lifestyle to Sara and Ibrahim.
"Like three fun-loving hermits. We're quite bohemian."
In an interview with Telegraph, Saif Ali Khan claimed that he was ordered to provide Amrita with Rs 5 Crore alimony. He had added that he paid Rs. 1 lakh every month until Ibrahim turned an adult. In his words: "I'm supposed to give Amrita Rs 5 crore, of which I've already given her approximately Rs 2.5 crore. Also, I'm paying Rs 1 lakh per month until my son becomes 18."
Saif also expressed his displeasure at Amrita working in a TV show as he was willingly providing for his kids' education and living. He questioned Amrita's choice of working in television as he quipped, "Right now, my kids are growing up with Amrita's relatives and maidservants while she's out working in a TV serial. Why does she need to do that, when I'm more than willing to support my family?"
Amrita filed for divorce from Saif Ali Khan after 13 years of marriage due to the reasons best known to themselves.
Image Source: Instagram