Throwback To The Time When Wajid Khan Took Blessings From A Eunuch Before He Kick-Started His Day's Work- Video
With the passing away of Wajid Khan, several videos have surfaced on the internet remembering the late music composer/singer. But this one where he takes blessings from the eunuch is all heart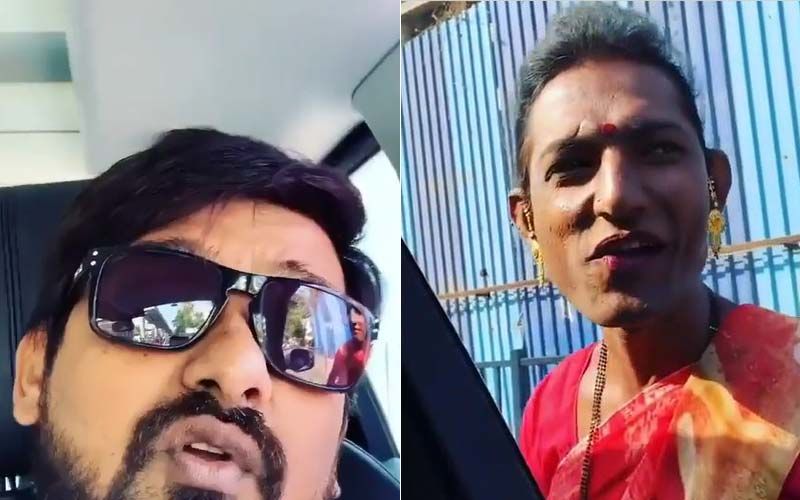 Early morning in the wee hours, one of the most talented composer/singer Wajid Khan of the music industry lost his battle with life. His death came as a shock to everyone as he succumbed to his ailments in a Chembur hospital, Mumbai. He was cremated today morning by his family and friends and pictures of it have been floating on the internet. Post that a lot of old pictures and old videos are being shared by his fans and followers on social media. And we came across one such video where Wajid is seen having fun and a heartwarming conversation with a Eunuch at a traffic signal on the streets of Mumbai.
In the video, we can see Wajid taking a selfie video with the Eunuch and can be heard asking for his blessing to kick start his day. In this 35 second video, he says, "Good morning friends today another day for shoot. Aur aaj hamare saath hai Shaheen phir mile. Kya haal hai? Aap famous hogaye maloom hai aapko? Aaj best of luck bolenge? Us din kya bola tha aapne accha hai jaake aao".
The entire entertainment industry is mourning over the death of this young stat. There were several reports that suggested that the famous music-composer who was just 42 when he breathed his last died because of Covid-19. But his close friend and colleague Salim Merchant cleared the air in one of his interviews to Bombay Times and disclosed the real reason of his death and said, "We all know that he was sick and unwell for a while now but still his demise was a complete shocker. Wajid did not die of COVID-19. There have been false news floating around since last night. It is very sad that his kidney infection got worse and it got the better of him ultimately. He had multiple problems, it went to his throat, he was a diabetic and he had other health problems too that he finally succumbed to."
Further speaking about his kidney problem Salim said, "Wajid had a kidney problem but fortunately, Lubna, his sister in law, Sajid's wife, donated her kidney to Wajid. They are a very close-knit family and this was around six-seven months ago. Though the transplant was successful, he wasn't keeping too well. What happened was that Sajid and Wajid became very busy working on the music of Dabangg franchise and he exerted himself a lot. Eventually, he caught up with kidney infection."
Wajid had also undergone angioplasty in 2018 after he complained about chest pain.
Image Source: instagram/viralbhayani