Wajid Khan Death: Fellow Musicians Sonu Nigam, Salim Merchant, Vishal Dadlani Express Grief Over His Demise; 'Gone Too Soon, Bro'
Music composer Wajid Khan of Sajid-Wajid fame passed away at the age of 42. Many musicians like Sonu Nigam, Salim Merchant and others took to their respective social media accounts to mourn his death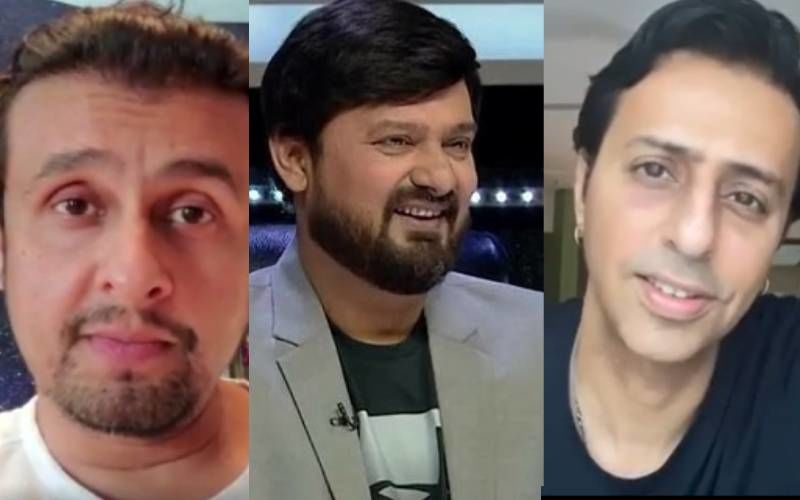 In a shocking turn of events, music composer Wajid Khan of Sajid-Wajid duo has passed away. The renowned composer breathed his last in Mumbai, last night. He was 42-year-old. The reason for his demise hasn't been confirmed yet as few reports suggest that he died due to kidney-related ailments. Some of the reports also suggest that he had tested positive for Coronavirus and was put on Ventilator. As soon as the news broke, his friends and fellow musicians from the industry expressed shock and grief on social media.
Sonu Nigam was among the first ones to share Wajid Khan's picture on social media and confirm the news of his demise. On Instagram, Sonu shared a picture of the trio and wrote, "My Brother Wajid left us." Salim Merchant of Salim-Sulaiman duo took to Twitter to express that he is totally devasted by the news of Wajid Khan's death. He wrote, "Devastated with the news of the passing away of my brother Wajid of Sajid -Wajid fame. May Allah give strength to the family Folded hands. Safe travels bro @wajidkhan7 you've gone too soon. It's a huge loss to our fraternity. I'm shocked & broken . Inna Lillahi wa inna ilayhi raji'un."
Vishal Dadlani on Twitter wrote, "Heartbroken. Both @SajidMusicKhan and @wajidkhan7 have been close & true friends. The kind who might see the light on and show up at our studio in the middle of the night just to meet and talk and share a laugh. Can't believe Wajid and I will never speak again."
Heartbroken. Both @SajidMusicKhan and @wajidkhan7 have been close & true friends. The kind who might see the light on and show up at our studio in the middle of the night just to meet and talk and share a laugh. Can't believe Wajid and I will never speak again.

— VISHAL DADLANI (@VishalDadlani) May 31, 2020
Have woken up to this terrible terrible news of @wajidkhan7 Wajid's passing away ..
Whenever we met we talked about music and things in general.. he had this childlike innocent mischievous smile that i can never forget . Sang a beautiful song #Kanha for #SajidWajid sad day ..

— rekha bhardwaj (@rekha_bhardwaj) June 1, 2020
Devastated with the news of the passing away of my brother Wajid of Sajid -Wajid fame. May Allah give strength to the family 🙏

Safe travels bro @wajidkhan7 you've gone too soon. It's a huge loss to our fraternity. I'm shocked & broken .

Inna Lillahi wa inna ilayhi raji'un

— salim merchant (@salim_merchant) May 31, 2020
I'm shocked!! I've lost a dear brother Wajid! I can't come to grips with this tragic news... He was such a beautiful soul..

Oh dear Lord, Please have mercy...🙏

إِنَّا لِلّهِ وَإِنَّـا إِلَيْهِ رَاجِعون

May Allah SWT bless him in Jannat-ul-Firdaus...Ameen. 🤲

#WajidKhan pic.twitter.com/B6pO3HyuZM

— Adnan Sami (@AdnanSamiLive) May 31, 2020
Image Source: Instagram/sonunigamofficial/salimmerchant/latestnewssouthafrica.com