WHAT! Shilpa Shetty Was Diagnosed With Antiphospholipid Syndrome: WHAT, HOW, RISKS And Other DETAILS You Need To Know About This Condition-READ BELOW!
Shilpa Shetty got candid about the issues in a reality show and shared the details about the condition that affected her pregnancy, here's all the details you need to know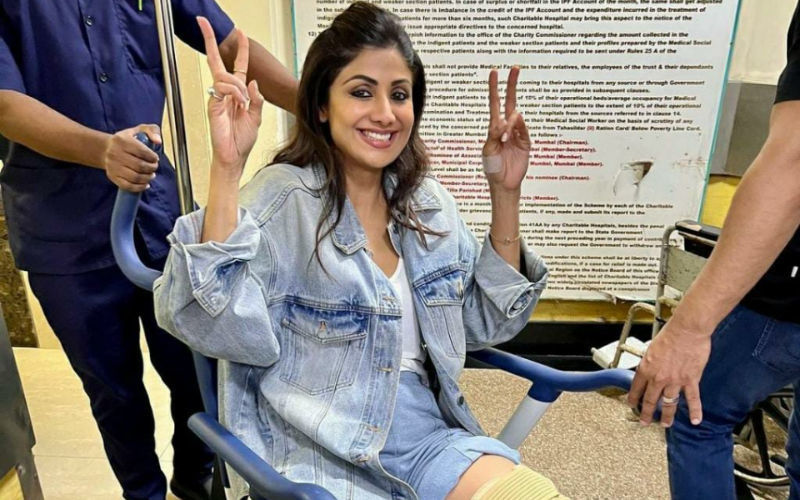 Back in 2020, Bollywood actor and diva Shilpa Shetty revealed having a health complication called antiphospholipid syndrome. Now, the actor finally got candid about the issues in a reality show and shared the details about the condition that affected her pregnancy and how after several attempts she decided to opt for the surrogacy route.

For the unversed, Shetty welcomed her second child, a daughter, in 2020 via surrogacy. She is also a mother to her son Viaan, who was born on May 21, 2012.
What is Antiphospholipid Syndrome?
It is a condition in which the immune system of the body goes against its own tissues by forming antibodies against them.
Simply speaking, it is an autoimmune condition in which the body attacks its own cells leading to several severe complications. Unfortunately, these antibodies can form blood clots in the arteries and veins and other problems which can lead to devastating health complications like heart attack, strokes, and other conditions. During pregnancy, this can cause miscarriage and stillbirth.
What are the symptoms associated with Antiphospholipid Syndrome?
While there are no visible complications and symptoms associated with this condition, several health complications can indicate the presence of this condition in the body including:-
Blood clot in legs due to which there is swelling, redness

Pulmonary embolism when the blood clots move to the lungs

Stroke can occur in young people

Transient ischaemic attack

Red, lacy and net like rash on skin

Low blood platelet count is also associated with this condition

Episodes of bleeding from nose and gum

Bleeding into skin which appears as patches of red spots

Chronic headache like migraine

Dementia

Seizure
Who is at RISK?
A latest ETimes report quoted Medical experts at Mayo Clinic, who shared that antiphospholipid syndrome is more common in women than in men and adds that having another autoimmune condition, such as lupus, increases the risk of antiphospholipid syndrome.
They also shared that there are several groups of people who are at higher risk of this disease, including:-
those who are pregnant

those who are not physically active

those who have had surgery

those who smoke cigarettes

those who take oral contraceptives

those who take estrogen therapy for menopause

those who have high cholesterol and triglyceride level
Furthermore, other reports suggest that the chances of developing antiphospholipid syndrome are higher if you have symptoms like HIV, syphilis, hepatitis C or Lyme disease. The report also suggests that a family history of this syndrome also increases the risk of having this.
Meanwhile, it is also warned that people who take amoxicillin or medications for blood pressure, heart rhythm and seizures are also at risk to develop this condition.
What are the complications associated with this condition?
The ETimes report suggests that Antiphospholipid syndrome leads to deep vein thrombosis, which is a blood clot in the veins of the legs. Reportedly, this syndrome is accountable for 15 to 20% of deep vein thrombosis cases.
It can also cause brain clots leading to headaches, dementia, seizures, and strokes.
It can affect the chance of getting pregnant as the risk of this syndrome occurring in women is 5 times more than in men. Blood clots in the placenta can affect pregnancy and can cause miscarriage or premature birth.
Several tests have confirmed that antiphospholipid syndrome can be confirmed by the laboratory tests like enzyme-linked immunosorbent assay (ELISA) for Anticardiolipin antibodies IgG or IgM and Anti-beta-2-glycoprotein-I antibodies IgG or IgM.
Image Source: Instagram