With Cinema Halls In Maharashtra Shut, Is Releasing Bell Bottom And Chehre In Theatres A Smart Move? Trade Experts Weigh In-EXCLUSIVE
With Akshay Kumar's Bell Bottom releasing in the theatres today and Amitabh Bachchan and Emraan Hashmi's Chehre up for release next week, even with Maharashtra theatres remaining closed, trade experts weigh in on this decision. They also predict if the already announced big September releases—Liger and Tadap—will follow suit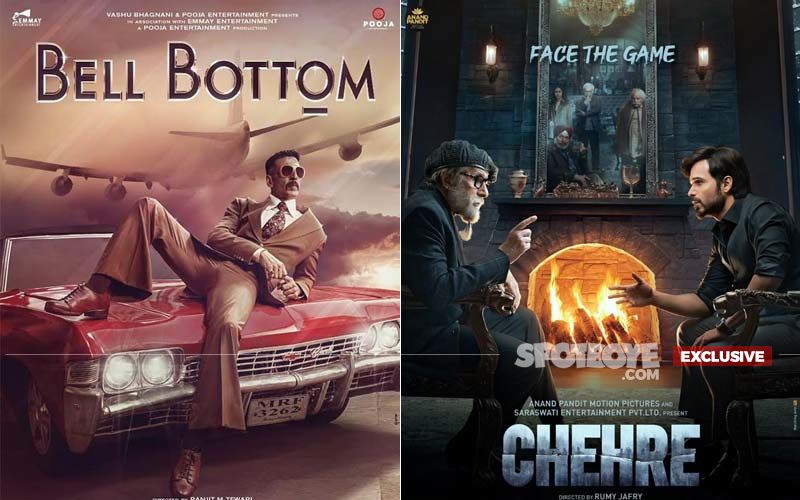 The makers of Akshay Kumar, Vaani Kapoor, Lara Dutta and Huma Qureshi-starrer Bell Bottom took a big step today by releasing their film, Bell Bottom, in the theatres. This is a risky step since the theatres in Maharashtra, which constitute a major portion in the overall box-office collection of a film, are still closed while the rest of the places where they are open, the occupancy is still mostly 50 percent. And now, after Bell Bottom, Amitabh Bachchan and Emraan Hashmi-starrer Chehre, is all set to join this league next week as they arrive in theatres on August 27. Is it a smart move to do that or a necessary risk, we asked some trade people to weigh in.
Film critic and biz analyst, Taran Adarsh, says, "Maharashtra bracket will definitely affect them because it constitutes about 30 percent of the total all India business. But at the same time, the cinema industry has been bleeding since the last one-and-a-half years and it was time to release a big film, so that people can again nurture a habit of coming back to the theatres. So, now we have Akshay Kumar's Bell Bottom followed by Amitabh Bachchan and Emraan Hashmi's Chehre, so let's see what the response is to them. It's more like a necessary risk as one doesn't know but one had to take a chance."
There are two films from big production houses which had a September release date announced earlier—Vijay Deverakonda and Ananya Panday's Liger and Ahan Shetty and Tara Sutaria's Tadap. Ask Taran if he thinks these films will follow suit as well and he says, "No one is coming on the previous announced dates now, so we'll have to see how the situation pans out."
Film trade analyst Komal Nahta gives his two-cents on the issue saying a theatrical release at this point is a smart move. He says, "It can never be termed as a smart move but a beginning has to be made, so rather than a smart, it is a bold move. At least they are not getting bogged down by the film not being able to release in one territory. At least, they are making a beginning rather than pushing the release altogether. So, the team needs to be lauded for their bold move."
Bell Bottom has received rave reviews till now, so does he think that it will add to the business by pushing more people to go to the theatres? "I don't know since critics' reviews don't matter. What critics say, I don't go by it as it's all about the box-office and the audience's reviews in the end, and the reviews of both rarely match. So, we'll know once the public reviews are out," he responds.
Unlike Taran, Komal is pretty clear that the September releases won't follow suit. "Not at all. They won't come in September at all."
Sanjay Bhandari, a film finance consultant, believes that it is indeed a progressive approach adopted by the team of these film makers. "When we say makers, that does not mean only producer but its extended family including producers, actors, actress, directors, investors and other technicians. Due to the current situation, definitely, there will be some disruption in its commercials but when the family is large and not of the single person, the said disruption can also be absorbed without any side-effect. This is the harmony prevailing in the industry amongst its film makers, which have been getting demonstrated decade after decade," he says applauding the makers for taking such progressive steps amidst the pandemic. "Releasing of films will also help the industry in reducing the backlog," he stresses.
As for the September releases, Sanjay has a more optimistic approach. "I am positive that films will continue to flow in cinema halls after these releases. However, some of the really big budget films will wait for Maharashtra to open, which contributes about 25-30% of the overall revenue," he concludes.



Image Source: Instagram/akshaykumar/singh_k18nov, imdb