Zaira Wasim, who rose to fame with her spectacular performances in films like Dangal and Secret Superstar, exited the world of showbiz long back. She, however, manages to remain in the headlines for some of the other reasons, most of which are controversial. Recently, the former actress took to her Twitter and quoted a verse from the holy book of Quran, which, as per the netizens, justified the ongoing locust attacks in India and she was bashed left, right and centre.
Soon after receiving backlash, Zaira deleted her tweet that read, "So We sent upon them the flood and locusts and lice and frogs and blood: Signs openly self explained: but they were steeped in arrogance- a people given to sin - Qur'an 7:133." This didn't go down well with the netizens, who accused Zaira of being insensitive at a time when several parts of India are facing locust attacks and are under high alert. A lot of them called Zaira anti-India.
A user wrote, "Well She just used a Quran's verse to Justify Locusts attack on a country which offered her an opportunity in cosmopolitan city. I will again say, The Source of Hate & bigotry is something else, Education and Secularism can never become the answer to radical Islamism," while another wrote, "If one wonders how does a millenial who was offered an opportunity in uber cosmopolitanism, end up with so much bigotry and hate, she is mentioning the source also."
Check out Zaira's tweet below: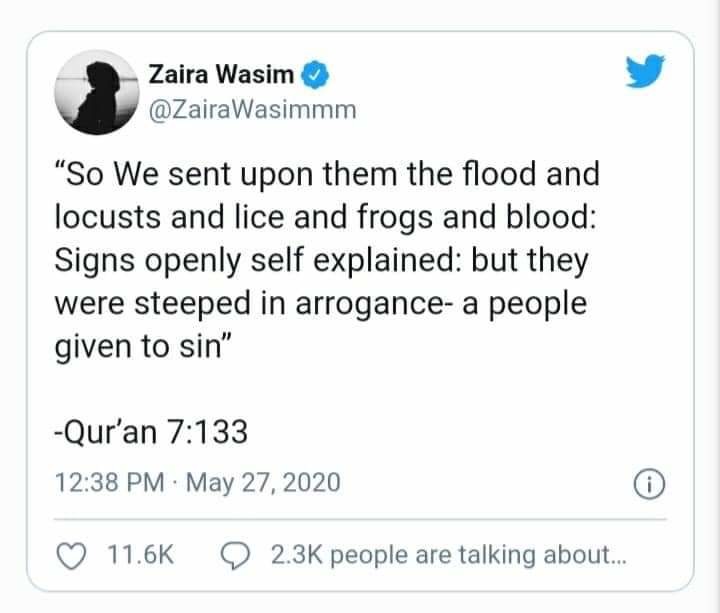 Prior to this, Zaira had expressed her two cents on how trolling, sharing a mean joke or a meme could affect one's self-esteem.
Images Source: instagram/zaira._.wasim._