Chandigarh Kare Aashiqui REVIEW: Ayushmann Khurrana-Vaani Kapoor's Unconventional Aashiqui Breaks New Barriers With A Package Of Entertainment And Nuanced Plot
Ayushmann Khurrana and Vaani Kapoor starrer Chandigarh Kare Aashiqui turns out to be a promising take on a sensitive topic with a hint of comic elements.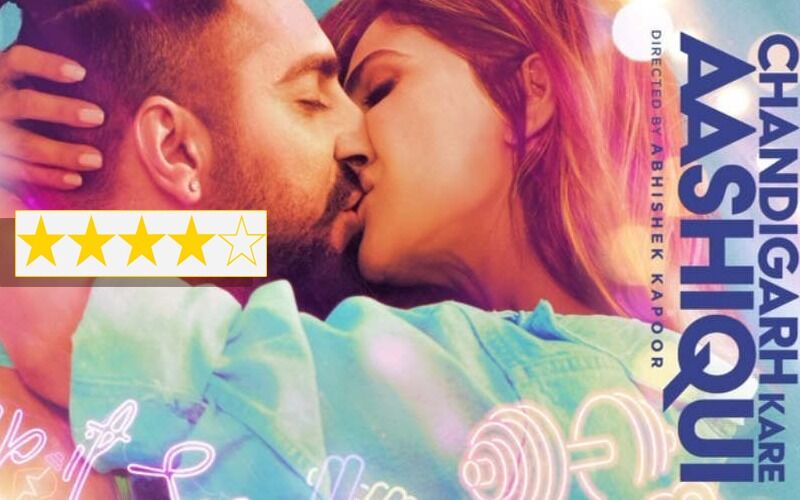 Chandigarh Kare Aashiqui turns out to be a quintessential narrative that elucidates how an offbeat story does not need serious treatment. For starters, Ayushmann Khurrana and Vaani Kapoor have nailed it in this quirky take on a topic revolving around a love story between a gym trainer and a trans woman.

Thanks to director Abhishek Kapoor, the filmmaker seems to have gone beyond his creativity to package the entire film as a massy entertainer, keeping the plot nuanced and unconventional to the core. There are a lot of grey areas to consider while making a film about LGBTQ. However, he has managed to put forth the film with much subtlety and unescorted by stereotypes.
The film starts off with Maanu (Ayushmann Khurrana) preparing for his weightlifting competition while he is introduced to Maanvi (Vaani Kapoor) - a Zumba teacher. Gradually, Maanu - unaware of Maanvi past - gets romanticly involved with her and their starts blooming as the plot progresses. However, there's a lot at stake here.
Unfortunately, members of the LGBTQ community have been reeling under 'societal and parental' pressures and many individuals continue to battle prejudices.
Well, Abhishek Kapoor has graciously twisted this narrative to his benefit in his latest release.
The film takes on homophobia in general and not homosexuality. Chandigarh Kare Aashiqui showcases the reluctance of the lead character's family to accept sexual orientation while they prefer to live in denial. However, there a few who readily accept the central characters irrespective of their sexual orientations. For example, Maanvi's father or Maanu's grandfather, there will always be a few individuals in the society that have come in terms of changing times and the people's personal preferences.
Being from a conservative family, it is hard for Maanvi and Maanu's family to accept their individuality or their relationship. But, as they say, 'Love conquers all'.
As the story progresses, Maanvi shares her secret with Maanu. Disturbed by her revelation, Maanu is shattered and decides to end their relationship for good. However, it becomes difficult for him as he realizes, Maanvi is the one he loves the most.
Director Abhishek Kapoor seems to be thoughtful of his own creation. Maanu who is devastated upon knowing Maanvi's truth, he eventually tries to vent it out on his former girlfriend and threatens her to leave the town. Although, as the wrestler comes to terms with Maanvi's sexual orientation, he decides to win her back.
Well, here's when Abhishek Kapoor wins us with his writing and directorial skills.
To everyone's surprise, Ayushmann Khurrana who plays Maanu actually accepts Maanvi's sexual orientation and explains to her how hard it has been for him to come in terms with her past. He also mentions that being from a 'government school' it is difficult for him to understand what 'Tans (transgender)' means.
Talk about Abhishek Kapoor's creativity to educate people, he features Maanu researching about sexuality and what 'trans' actually means.
The 117-minute romantic-comedy film is packaged with comic punches making the film a light-hearted drama with a serious topic aiming to educate the masses.
Interestingly, Vaani Kapoor has been convincing throughout the film. Well, she isn't just another eye-candy as the trailer suggests but, she does a great job while making the most of her looks and acting skills.
Ayushmann on the other hand has once again gone off the charts and added yet another memorable film to the list of his hit films. With every release, the actor continues to strengthen his credibility as a promising actor.
In conclusion, the film is an extraordinary attempt to make a sensitive topic that can even bank good numbers at box office. However, there is a lot that could have been done with the climax. Honestly, while the end appears abrupt, viewers can definitely enjoy the rest film. Surprisingly, Vaani and Ayushmann's pairing transpires to be of the pivotal factors that make the film gripping and it would be great to witness their chemistry in yet another film.
Rating- 4/5
Image Source: PR