De De Pyaar De, Movie Review: Tabu-Ajay-Rakul Triangle Is Damn Naughty But Yet Won't Scar You
Masti, Pyaar and Conflicts- it's all happening in De De Pyaar De. These ingredients are enough to make a film an enjoyable watch. Rakul, Tabu and Ajay are all the time at it and hence the product is not fluffy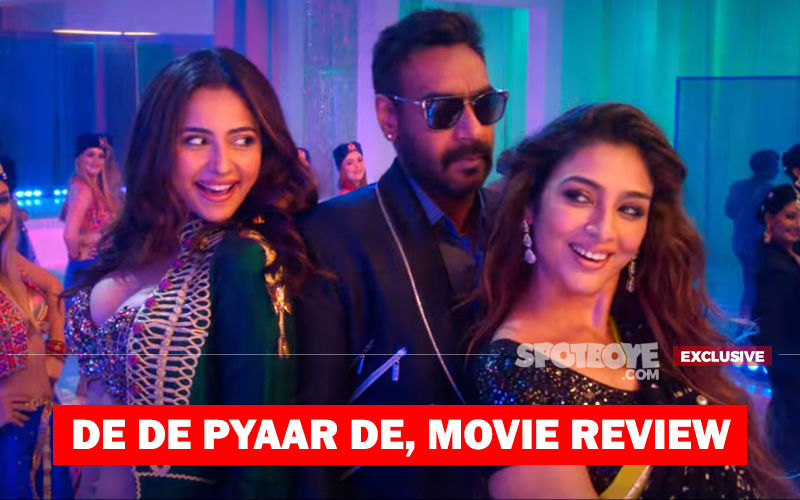 So, let me welcome this newbie director Akiv Ali whom Luv Ranjan has thrown in the ring by telling him his mistakes first. Akiv, please let me know why Ajay needs to introduce his extra-marital affair to his wife Tabu and get her all the way to India? And pray, why does he fall for her again when it is more or less clear that he is repenting for having been a lousy husband and father? So far, so bad.
But now Akiv, I must say that you have entertained us with De De Pyaar De. Awkward situations, hilarious lines (thank you writers Ankur Jain and Luv) and a character like Jimmy Shergill who one feels deserves seetis for yet another unforgettable performance. Wonder how he churns out so many impressive avatars, and mind you- no publicity interviews, no hi-drama quotes in interviews, no PRs calling yeh story kar de uski please.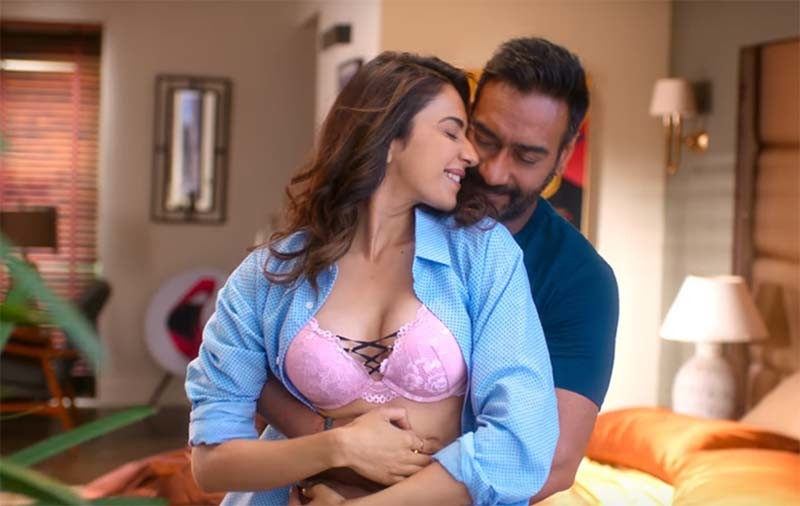 Rakul Preet Singh With Ajay Devgn
Obviously you know from the trailer that the film is a Pati, Pani Aur Woh between Devgn, Tabu and Rakul. And you know, I never waste your time and my space in writing the story anyway. But who scores the highest marks amongst the three is what you might be wanting to know. Trust me, it's a photo-finish. Are you surprised? There's a line in the film which is told to Tabu two-three times, 'Aap kaise kar leti hain?' So apt! Ajay's lazy elegance and wry humour fit his character to a T. And Rakul? Well, she blew me away! So much confidence? How come?
Interestingly, Alok Nath provides quite a few punchy lines. That you can't forget his Vinta Nanda controversy while watching him is another story.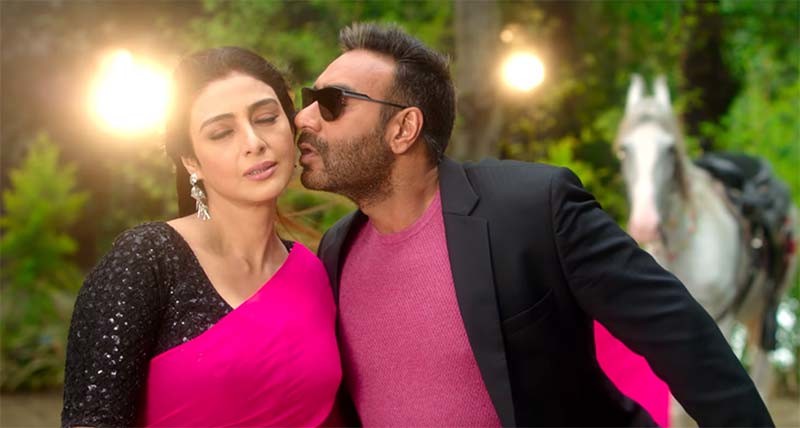 Tabu With Ajay Devgn
Watch Tabu in the scene where she tells Devgn 'Ab main thak chuki hoon'. Watch Rahul in the scene where she confronts Tabu after Tabu and Devgn go to bed without her knowledge. Watch Devgn in the scene when he speaks through his eyes when his daughter blames him for her marriage proposal having gone down the drain.
Back to Akiv. Praise is also due to you, Mr Director, for striking a good balance between old values and modern views. You too have been apt and I refer to your handling of the age-gap romance, legal separation, live-in relationships and sex.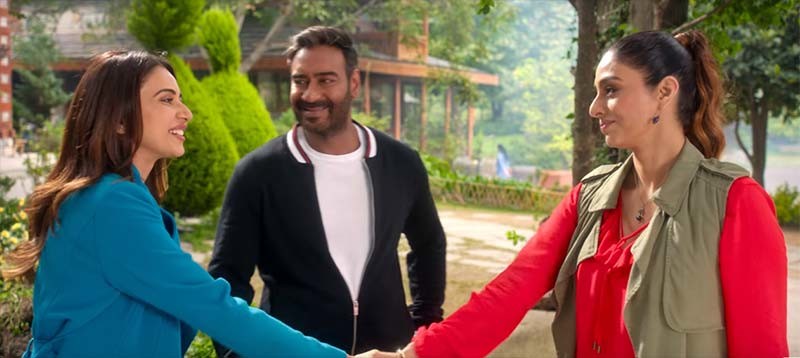 A Still From De De Pyaar De
The final nudge: There are a few over-the-top scenes and there are portions where the film slackens in pace.
The final admission: De De Pyaar De is a good time-pass.
I am going with THREE-and-HALF.
Image Source:- Youtube/tseries