Dhokha Round D Corner Movie REVIEW: Do Not Be CONNED, This R Madhavan Starrer Has Thrilling Climax Packed For You And It Will Blow Your Mind!
Directed by Kookie Gulati, Dhokha: Round D Corner stars R. Madhavan, Khushali Kumar, Aparshakti Khurana, and Darshan Kumar in a titillating love story which takes quite an interesting U-turn towards its end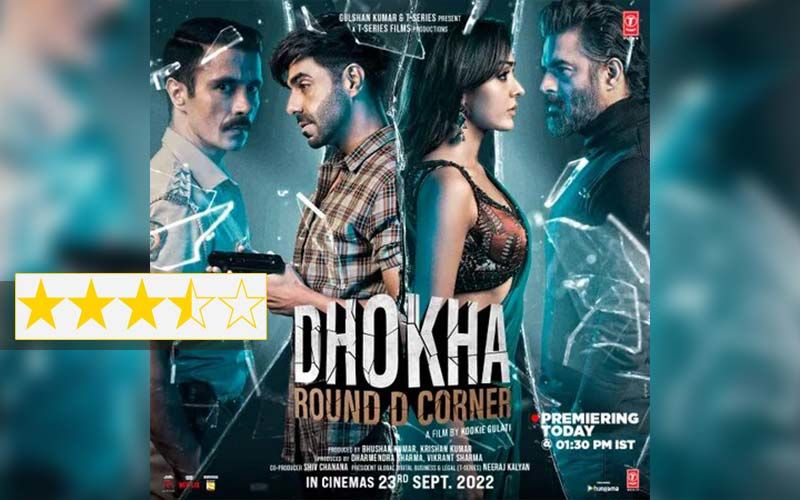 Who knows, what happens behind closed doors? This Kookie Gulati directorial appears to be a case of a thrilling drama but, it's more complicated than you could have imagined. To simply summarize the film in one line - this is more of an unconventional love story that will blow your brains as it nears its conclusion.

To note, it's easy to chalk out a love story with a premise of just the usual - 'boy meets girl' or adding the spectrum of adultery/divorce. However, Kookie Gulati and Neeraj Singh deserve a few extra points for curating a fresh piece on paper and the screen.
This R Madhavan starrer does not leave the audience beating around the bushes and it quickly catches a great pace featuring the transitional love story of Yathaarth Sinha (R Madhavan) and Sanchi Sinha (Khushali Kumar).
But, as usual, good things do not last forever! And we have a terrorist Haq Gul (Aparshakti Khurana) trying to accomplish his goals and in an attempt to do so he burns all bridges between the couple.
Well, the editors definitely deserve applause for keeping the thrilling mystery alive and not revealing the real crux or the climax of the story. They have surely done a phenomenal job.
Interestingly, the director has played his cards quite cautiously and he has successfully yet another added crucial character - Inspector Malik (Darshan Kumar) to the thrilling drama.
This 112-minute love story is all about the narratives and Gulati has done a fabulous job of intertwining the fates of three men around Sanchi.
Honestly, do not commit the mistake of judging any character merely by their appearances as they can be really deceiving!
For example, the trailer suggests Sanchi leading the life of a simple, middle-class, housewife, or educated person; but she is a mentally ill and volatile individual - well, that's how her husband Mr Sinha describes her. As mentioned earlier, looks can be deceiving!
Don't worry, we do not plan on giving any spoilers!
'Dhokha: Round D Corner', lives up to its title and the film features a stirring climax. Full of sexual tensions and an impactful screenplay - which could have been better- this drama even throws some phenomenal comic punches. At times some scenes might feel a bit too much or completely unnecessary.
However, we can certainly overlook a few technical flaws from the director as the climax easily makes up for it.
The film is definitely more about a thrilling love story and one thing is for certain this is undoubtedly a stirring drama full of U-turns and this vaguely flawed film comes along well.
Speaking about the performances, R Madhavan has done a fabulous job and this actor does not let his age limit his film choices. Aparshakti Khurana and Darshan Kumar were good but, it seems the former has stretched a bit too much with his accent.
In contrast, the newbie Khushali Kumar looks sensual and she might even make it to being the new Bollywood diva, but it's not all about a pretty face. Let's just say, she might want to consider giving a few hours to hone her acting skills.
In conclusion, we all know Sanchi's fate thanks to the trailer, but do not judge the book by its cover! There's a lot that goes on behind closed doors and the end will blow your mind!
RATINGS - 3.5/5
Image Source: Instagram