Whee, the daal probably has tadka of pure ghee. So sex-works of a 'randi-khaana', circa the end of the 1940s, crave for second and third helpings. Kaboom, daal mein kuch kaala hai. Arrives a post-card informing them that the daal has been spiked with botis of the bordello's pet dog. Whattttttt!The ladies puke. Er, so do you or almost, somehow still clinging on to your seat.
The next shot of Begum Jaan, directed, written and misadapted by Srijit Mukherji from his Bengali National Award-winning film Rajkahini, trolleys over to show you the skinned dog. Is this our retort to the Extreme Asia stomach-churners? Burp re burp.
Like it or not, this Begum J may be intended as a statement on women empowerment, but this buffet of hysteria, hyper-exaggeration and brain-fry, is quite frankly indigestible. Not surprisingly, at another juncture, a sex-worker howls that she has the loosies.
Image Source: yotube/visheshfilms
Taste some more random yucky moments if you must. One, against the backdrop of the national flag, an old woman strips to shame a gang of rapists in New Delhi. Two, a top cop flanked by his subordinates takes off his pantaloons to display a pair of chuddies. And last and also the least, a horse buggy canters off with two weirdos pillaging the izzath of a woman, aah and not to forget Mr Chunky Pandey hamming it up as a sickular (he claims to be both a Hindu and Muslim). Rubs Chunkyji, his paunch to announce that his henchguys now want to have some frolic and fun. Bleep, you know what that means.
Okay, even the basic premise of this Bollywoodised dekko at a brothel under siege at the time of the impending Partition of the sub-continent, is a mash-up of Shyam Benegal's Mandi (1983) which depicted the travails of a madame striving to save her hearth and household from the local politicians. Just futz around with the era, drag it back to the partition days, and the outcome is a sorry spectacle, both in content and style.
Technically, there are eye-bogglers, like the two benign gents from the opposing sides of the border, in half-screen close-ups. As for comparisons of the dear Begum Jaan (Vidya Balan, natch) with Jhansi ki Rani, Meerabai, Razia Sultana and hello even Rani Padmavati (Sanjay Leela Bhansali won't be pleased, methinks), these are shown with video effects which are shockingly tacky. Overall, the editing, shot takings and the cinematography are terrifyingly topsy-turvy.
Back to the hoary past, then. Begum J and her brood of sex-workers (too many to count or single out) from different regions of the country (Punjab, Gujarat etc) are about to be displaced from the haveli they consider their heaven and hell on earth. Plus, there's a mimicry artiste, a jabberwocky amma (Ila Arunji in snow-white costumes) , a bodyguard, a professorial sort who has more than text-books on his dirty mind, a Raja (Naseeruddin Shah, wasted in a role not up to his stature), and a little girl who's supposed to be the symbol of innocence.
Indeed, cliched symbols abound aplenty. More: like a busybody cockatoo substituting for the usual parrot in a gilded cage; a sudden cut to a stuffed tiger to convey menace; and fire breakouts galore, the finale even pulling you back to the gunfight of the…believe this… Butch Cassidy and the Sundance Kid. Moreover there's a chronic lack of plausibility. Madame Jaan, fashioned as a woman of fortitude and pragmatism, is in a denial mode throughout.
That there's an outbreak of carnage and tragedy, just a breath away from her ethnic-chic brothel, just doesn't seem to be make a jot of difference. The director-writer, as a result, insults both the Begum's and the audience's intelligence. Please, please, get real sir.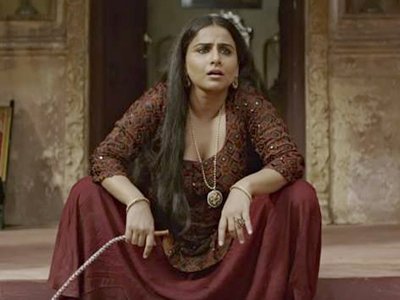 Image Source: yotube/visheshfilms
In the event, the screenplay as well as the characters which populate it, neither command your empathy nor your endurance band-width. Dedicated quite irrelevantly to the legendary Urdu writers Sadat Hasan Manto and Ismat Chughtai, the head-trip also foists in a feeble version of the song, Woh subah kabhi toh aayegi penned by Sahir Ludhianvi and composed by Khayyam for the Raj Kapoor-Mala Sinha film Phir Subah Hogi (1958). Incidentally, it was adapted from the Dostoevsky classic novel Crime and Punishment. Why? Leave the classics alone. No need to use them for a product which doesn't do the greats an iota of justice.
To come to the big question: can an actor of Vidya Balan's supreme calibre save this thingamujig? Your heart is likely to go out to her despite the messy material assigned to her. She strives to do her best, acting gutsily as is humanly possible. Snag is that her role permits her to play it in one, tiresome note: loud, loud and louder. Her expressive eyes are unnecessarily abetted by greyish contact lenses, plus the cosmeticised knitted eyebrows don't help any.
Ms Balan, alas, opted for the wrong daal from the menu.
Unsolicited suggestion: Don't see this Flimsy Picture.
Thumbnail Image Source: twitter/vidya_balan
They say the best things in life are free! India's favourite music channels 9XM, 9X Jalwa, 9X Jhakaas & 9X Tashan are available Free-To-Air. Make a request for these channels from your Cable, DTH or HITS operator.