Bikini Face-Off: Jennifer Lopez Wears A Two-Piece To Relax, Kim Kardashian As A Valentine's Day Treat For Kanye
In today's Bikini face-off game, we bring you Kim Kardashian and Jennifer Lopez's black-and-white look that will leave you sweating in the summer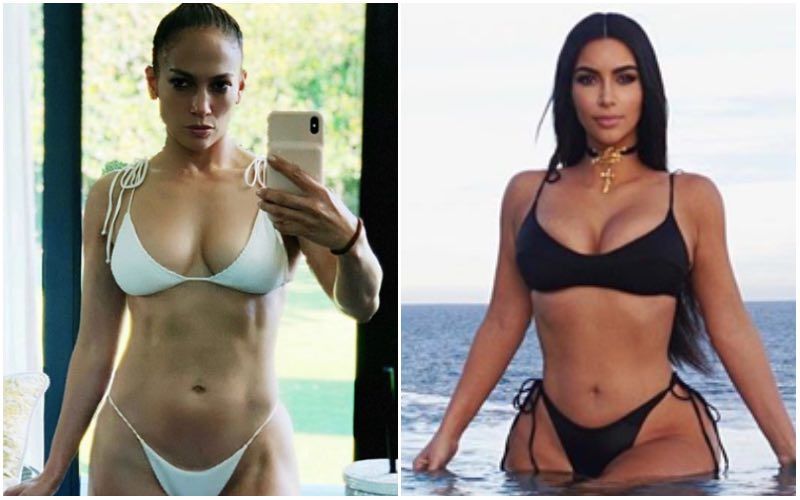 Nothing screams summer, like swimsuits and what better kind of swimsuit to beat the heat, than a two-piece, right?! With the onset of summer, a bikini and the beach is all that can uplift our mood. However, as we are under Coronavirus lockdown since March, these ladies Kim Kardashian and Jennifer Lopez are surely raising the mercury levels by all means. As we were going through our social media feed, we stumbled upon Jennifer and Kim's bikini photos and oh boy, they have all the potential to set the phone screens on fire.
Speaking of Kim's look, she was seen wearing a tied up black bikini while flaunting her sexy physique. Since she is known for her hourglass figure, the Keeping Up With The Kardashians star really knows how to carry that Bikini well, leaving everyone sweating. While sharing this picture, she said that is a Valentine's Getaway for her hubby Kanye West. Damn, that was a treat for the rapper. Sharing the picture on her Instagram account, she captioned it as, "Valentine's Surprise Getaway, Kanye."
Talking about the Hustlers actress, Jennifer Lopez shared a mirror selfie of her 'relaxed and recharged" look but the look definitely not leave you relaxed with all the hotness oozing out. In the picture, she was wearing the same two-piece bikini set but in white. The actress' selfie game was clearly on point as she showed off her toned midriff and no-nonsense look with her hair pulled up into a tight top-knot.
Of course, both their bikini game is strong but it also brings out the angel and demons vibes. However, who do you think has won this bikini face-off?
Image source: Instagram/ Kimkardashian/ jlo